This is a photo of the almost finished table. Basic 5/8 mdf top, with pine for the stringers and two laminated pieces for each leg.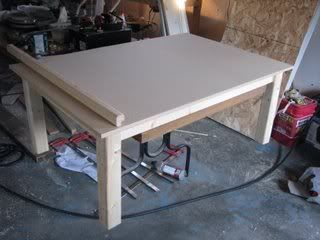 This is a, admittedly fuzzy, view of the moulding piece from the end before I mitered the corners.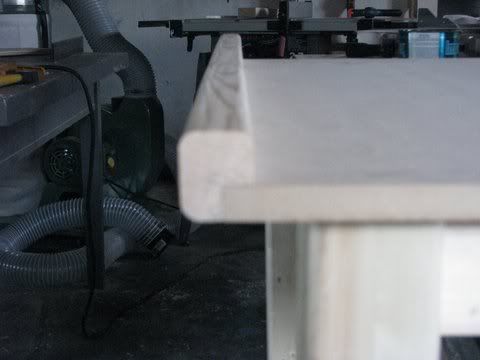 I've not yet had a chance to see if my increasing the rabbets will allow me to match up the mitres…I've got them cut I just need about a 1/2 an hour to finish it off. I'm not sure if you can see in this photo but there are definite trails left by the nicks in my thickness planar blades…they need to be refurbished :-(
Wednesday evening is looking good to finish it.
This is being painted Thomas the Tank Engine blue with stickers or something making it more Thomas like. I'm hoping the kids and I can paint it early next week when we get back from camping.
I've learned a lot on this one, especially about setting up the router table and of course about measuring :-) I will post photos once its painted. Thanks for reading!
-- "Checking for square? What madness is this! The cabinet is square because I will it to be so!" Jeremy Greiner LJ Topic#20953 2011 Feb 2
---