Well I've finished cutting the rabbets and halflaps for the framework for the table top and for the upper part of the legs. I'm learning a lot about how to increase the accuracy and precision of my joints as I become more familiar with my router. The jig is working really well and I've got a lot more confidence in my ability to build accurate jigs. This is a shot of the final leg joint after its cut.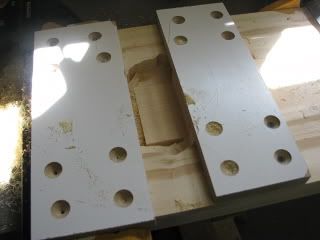 I had to adjust my joints after deciding not to use an 10 degree angle on the legs and just stay at 90 degrees or perpendicular to the ground. WHat I wound up doing was halflapping the upper joints for the legs and then rabbeting out the leg portion that would intersect the short frame segment that runs fore and aft. I've not changed my SU drawing to reflect the 90 degree legs yet otherwise I'd include an image.
I've got to figure out how I am going to mount the lower bracing and bottom platform (which will be the basis for undertable drawers in the later versions of this table).
As I've mentioned in my coffee table blog I need to get moving on some real projects and get this router table finished and operational.
-- "Checking for square? What madness is this! The cabinet is square because I will it to be so!" Jeremy Greiner LJ Topic#20953 2011 Feb 2
---