Got up early this morning and headed over to the lumber yard to pick out the lumber for the coffee table. I picked up two 4/4 6" x 14' rgh maple and one 4/4 6" x 16' rgh maple. I also got a 8/4 7" x 4' piece of maple for the legs. I decided against using figured maple for my top since I had concerns on making the figure match up after milling. Here is a picture of the boards right after I got them in the shop.
I cut down the boards to make the pieces for the top, long and short aprons, and legs. I then ran all the pieces through the jointer to get one face flat and a square edge. After that I squared the opposite edges with the table saw. (really need to get a new blade for it, the factory rigid 40 tooth isn't the best with maple) I also ran the top pieces through the planer to mill them down to 3/4". Here two pictures after some milling.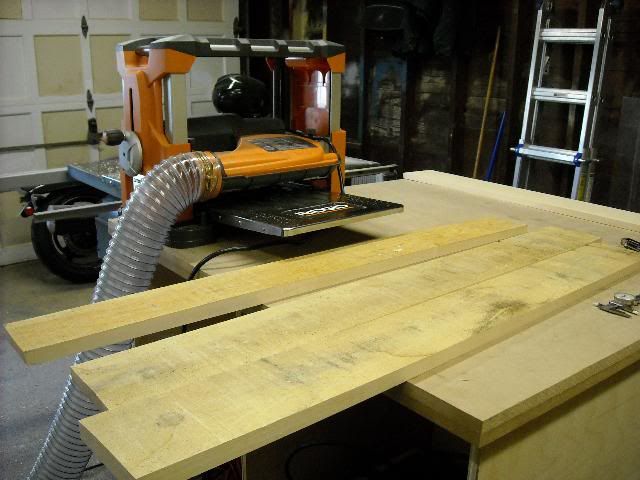 Since I was feeling productive today I glued up the pieces for the top. I made another design change in the size of the top. I milled enough pieces to make a 27" x 44" top and found a width of 21" to be much better looking in proportions. I really like these Bessey K-Body REVO clamps. They made glue-up of the top very easy.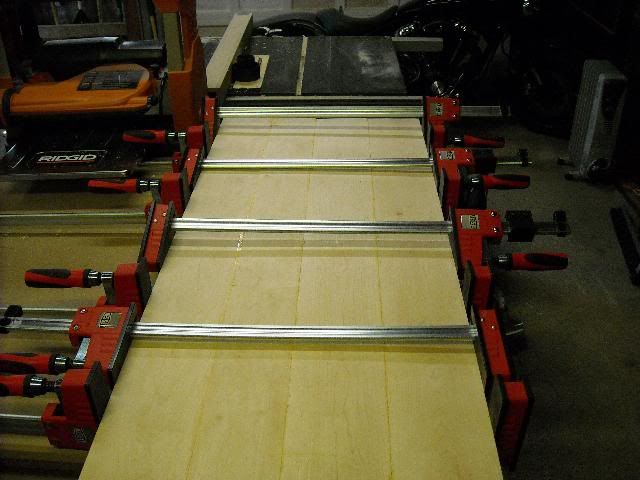 After the glue dried I squared the ends, cleaned up the glue lines and started sanding the top. And this is where I ended my day in the shop. I'm very happy with my progress with the table today.
-- Drew, Delaware
---