Got back out to the shop and made the little guide blocks as seen in the Vintage Saws site tutorial.
The use of the blocks really did help to maintain the rake angle and give you something to hold on to when filing. I continued to file all the teeth from one side until they all had a uniform shape.
After the teeth were shaped, I set them using a standard set with a range of 4-12 TPI settings. I used a set similar to this one: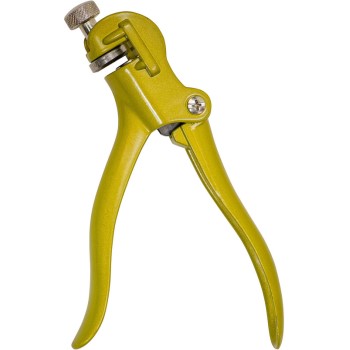 I jointed lightly once again and filed the teeth lightly from both sides this time (alternating every tooth). It's important to file the teeth that are set away from you. I ended up using two passes on each side to remove the flats and file the teeth to sharp points that do not reflect light on the cutting edge. Here's what I ended up with:
I'm pretty pleased. Remember what the teeth looked like originally? Here you go:
I was able to take a saw that literally could not cut, and sharpen it to a real decent cutting saw that cuts straight (or as straight as I can cut) and fits snug in the kerf without binding:
A little more technical info:
The saw blade is .020" thick and it now has an overall set of .006" or .003" per side, achieved by systematically honing the sides of the teeth to reduce the set. I think it took 3-4 passes per side with a coarse diamond hone. After setting the teeth, the saw had an overall set of .012" (with the saw set on it's finest setting). Even that would be a lot better than the original .022" of set the saw came with, which would make the kerf .042" or twice as thick as the blade!
This saw with 13 TPI filed RIP with an 8 degree rake angle cuts fast and clean.
Next, I'll tune the crosscut saw…
-- Dorje (pronounced "door-jay"), Seattle, WA
---