With flat screen TV prices dropping like gas and the holidays fast approaching the guys at Woodsmith Magazine were right on target with this months issue featuring an Entertainment/Media Center.
I have been looking for unique set of plans for for an Entertainment Center for some time and this months issue arrived the day after the wifey and I agreed a new flat screen would be our Christmas present to each other. If you're not familiar with Woodsmith check out their website which has the Media Center on the cover. http://www.woodsmith.com/ Being the LJ that I am I started builiding right away and I thought this would be a good opportunity to bring the LJ community along for the ride. Who knows maybe you'll get a big screen for Christmas. Woodsmith plans call for cherry finished plywood but I opted for oak. The only problem was these plans are for a 42" TV so I had to widen the base cabinet to fit the 52" screen we bought. Unfortunately when you start tweeking the numbers for one part of the project you have to change everything to keep it in scale and proportional. Changing the center section also requires changing the case measurements of the side base and upper cabinets, which requires changing the face frames, which requires changing the door and drawer measurements, etc etc. The case construction is basic tongue and dado design.

I used pocket hole joinery for the face frame itself and to attach it to the cabinet.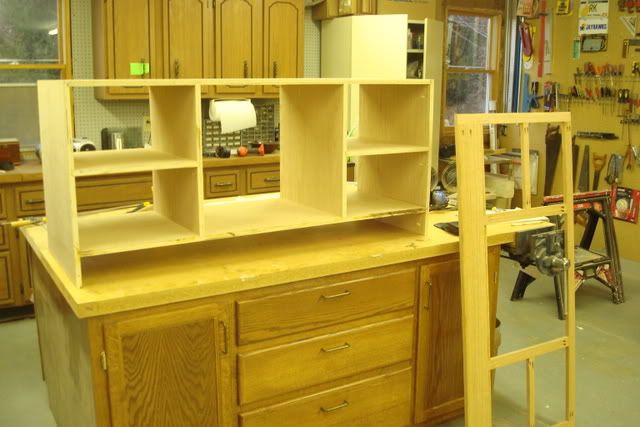 -- Common sense is so rare anymore when you do see it, it looks like pure genius.
---