Work on the bench continues with attchment of the endcaps. I posted this picture primarily to show this little trick on how to extend your bar clamps since most of us don't keep 7 foot clamps around. I'm sure this is old news to most but for those who have never tried it, it's a nice trick in a pinch.


The cherry end caps are held on with double half inch splines. Getting these to line up was a little tough.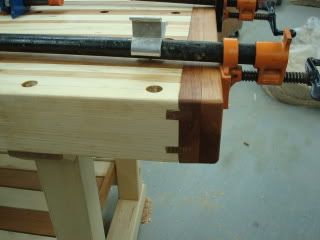 Thanks for lookin.
-- Common sense is so rare anymore when you do see it, it looks like pure genius.
---