Work on the work bench continured this weekend but slowly. The top was originally glued up in 5 sections each being planed before all were glued together. A few pics of the process.


Yeah it's real heavy top alone is close to 200 lbs and 40 board feet of lumber


Okay so here's the kicker. When gluing up the 5 sections it is done face down on the assembly table. Unfortunately when I took the clamps off and flipped it over I big Boo Boo. I had not flipped over the one plank with the dog holes for the tail vise. You will see how the dog holes don't line up with the others for the face vise. I was about ready to run it thru the band saw and retro fit the 3 tail vise sections but after thinking about an easier fix it came to me. Drill some 3/4 inch plugs and fill the goofs and drill some new holes. Now I just gotta find a 3/4 inch plug cutter.


I thought I was real careful when gluing up the sectons and expected the top to be dead flat; NOT. A quick check with a straight edge revealed a fair amount of planing will be needed before this top will be flat. Might be an excuse for a new jack plane and a video of the process.


Lastly the top will be applied with 4 threaded inserts into the underside of the top and bolts up thru the base.

threaded inserts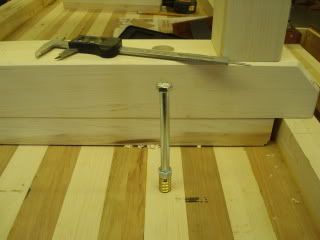 Next: flattening the top and addding the vises. (still on order)
-- Common sense is so rare anymore when you do see it, it looks like pure genius.
---