As a prelude to the garage make-over and while I wait… patiently… for the necessary funds to accumulate, I decided to take a stab at the first step in re-organizing my garage by building a multi-functional tablesaw cabinet. I first started thinking about this type of cabinet after seeing a set of plans in Wood magazine, various examples here, and elsewhere on the web. Besides, getting all of my various TS and Router oddments together in one place seemed like the perfect first step.
I wasn't fond of the router table addition in the plans so have opted to use a modified version of Norm Abrams' Deluxe Router Station (I just happened to have the plans).
The cabinet will be made out of 1/2-inch MDF for the most part since it was what I had and is slightly less heavy than and 3/4 material, I have to be able to move it by myself after all!
The base of the entire unit consists of a 27" x 80" slab of /34" MDF over a grid of 3/4" AC Ply. It has two fixed and two swivel 5" HD castors for mobility.
I started with the router cabinet, mostly because I neede to see if I could modify it successfully. Nothing else really matters if this doesn't work out correctly!. Additionally, I also picked up a Pinnacle Premium Router Quick-Lift which needs a new home and that I an dying to play with! I will admit that I have had a little bit of difficulty in making some of the changes.y design looses approx. 6" off the bottom of the unit and is 7" narrower in order to fit between the rails of my Biesemeyer TS fence.
Here's what I have so far…
And of course, none of this would be done without my #1 Assistant and new DC unit, my Grandson!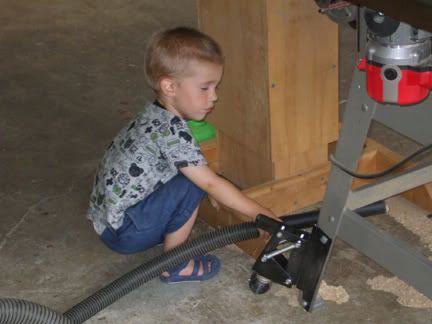 -- "Lumber is just sawdust in 'solid' form!"
---