Progress continues on my Multi-functional Tablesaw Cabinet.
Router bit storage will be in six (6) drawers, two ¼" shank and four ½" shank. There is one 3" deep drawer for storing wrenches and such and a chase for routing the wires.
Drawer pulls are simply 1" drywall screws until I get the fancier drawer fronts completed.
Taking a cue from the plans I got from Norm, I added dust collector capabilities from the router chamber. I still need to add a knob/pull to the oak and plexi door.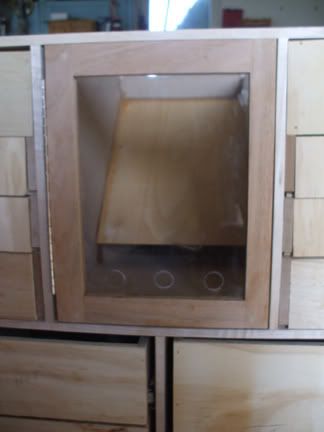 Since I am building this into an extension table for my TS, I needed to route the dust ducting (2" PVC) through the drawer unit carcass that will go between the Router cabinet and the TS cabinet.
The lower drawer will end up as an 8" box with a 12" drawer front in order to clear the dust collection pipe. I think this will be my blade index. If I do it right, I should be able to get 15 to 20 10" blades stored in this drawer, maybe more.
The pipe elbow in this picture is the one from the router cabinet. The pipe tee will direct dust collected from the tablesaw base cabinet. Another tee will assist in collecting dust from the router fence pick-up. Final configuration of the ducting is still to be determined. I need to figure out how to add blast gates to isolate each end of the cabinet.
I've temporarily rigged up the dust collection piping. All connection outside the box are secured with self-tapping sheetmetal screws and will have grounding wires connected when all is said and done. The second tee fitting will eventually be for dust collection from the router fence. Still need to get some blast gates in order to isolate each side separately.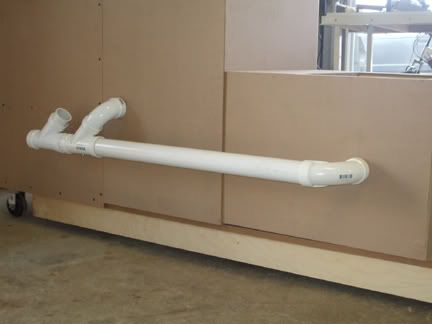 With the saw temporarily in place, I removed the second tee fitting and hooked up my shop vac. just to see how things worked.
Everything seems to work as planned. Will definitely work tons better once I get it hooked to a proper DC system.
Once I got the saw in place I noticed that the base was starting to sag with all of the additional weight. Good thing everything is only tacked into place. I think I will need to replace the 3/4" MDF base with 3/4" ply (Maybe a sheet of 3/4" and a sheet of 1/2"), and add some additional cross bracing as well. Need to see how much energy I have later in the week.
Again, until next time… Thanks fer lookin'
-- "Lumber is just sawdust in 'solid' form!"
---