When you have finished lathing your flute and have plane your sides and under the flute, take your flute and drill a 5/16 (7.9375 mm) (0.79375cm)hole in the mouth end until it goes into the SAC area. Now file the edge of your TSH and it doesn't have to be sharp, your can have 2/32 (1.5875 mm) (0.15875) blunt end if you would like. The edge of the TSH will change the sound of the flute base upon how thick or thin the tsh is. Put your block on the sac and in front of your tsh.

blow lightly, you should be getting an E not a F#, the reason is because I made the flute longer than what is required for a F# I had add a couple more inches than needed, which will not give you an F#.
You should also be getting an over blow which means that the sound jumps a octive or two don't panic as this is normal,.
Here is how to fix the overblow,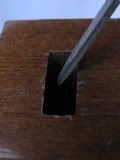 that whole area needs to be filed about a 45 degree; do about 6 stokes, the back of the tsh too. (confused //write me)
now move the block back towards the mouth about 1/8" (3,175mm) (0.3175cm) you can move the block back and forth until it sounds good. Usually if you put the block so that it's not up against the TSH it sounds better.
---