you should notice in this picture that the SAC and the TSH are up against the block. Every flute makers has his own idea as to where to put the TSH; either against the block or some will measure about 1/4" (6.35mm) (0.635 cm) from the block wall. I have done it both ways, and preferr to do it against the wall or block.
After your have gotten the TSH and SAC file as shown in the picture. Measure form the SAC and the TSH 1"
towards the mouth and 1" towards the foot.(25.4 mm) (2.54 cm) In this area sand so that it is smooth, no deep lines etc. you want that area to be flush, so you could put a square on it and drag it from one end to the other and see no light under the square. Turn over your work piece and use a razor to cut a line on both sides of the TSH and SAC about a 1/2" long (12.7 MM) (1.27 cm) (does not have to be exact)
Then use a chisel to chisel a ramp at a 45 degree. Make sure you do not exceed the 3/8 wide (9.525 MM) (0.9525 cm).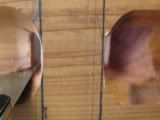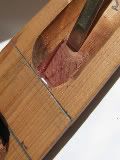 both the sac and tsh should look like the below picture. again by no means finished.



as you chisel down, you will have to watch the edge of the TSH and SAC, leave about 3/32" (2.38125 mm) (0.238125) at the edge of the SAC and TSH, more is better.
When you are done, sand the area around the TSH and SAC as smooth as possable and the bore length. I put a sealer in both the SAC area and 17" bore. Then I put 4 to 5 coats of Shellec and cover it well. you can paint it on or use a rag. You do not want to have any spill on the edges where you will be applying glue, because it will pop apart latter; so keep it clean. Next blog will tell you about gluing.
---