Now that you have drawn the lines, turn over the one you have chosen to be the top of your flute.
Draw a center line down the one you have chosen for the top. Now the lines on the side, will help you line up the two chambers; when you glue the two together the bore will match.
Now on top of your work piece the one chosen for your top with the center line. Draw your SAC and TSH as shown in the picture below.
"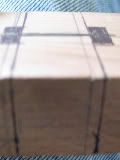 " they are 3/8" wide (9.525 MM) (0.9525CM) left to right and 7/32" up and down (5.55625 MM) (0.555625 CM)
it is very important that this size is not bigger or smaller. Once you have drawn them out, drill them out.

Get a drill bit that does not succeed the line or size that you have drawn 3/8 7/32
---