Here I go again with another attempted of putting pictures of this site, I've had alot of help from several of you. So here it goes and this time I think I got it.
This picture has to do with, two channels, Your SAC and BORE, this is a 1" (25.4 mm) (2.54cm) block between the two.
Draw a line with a Square that follows all around and meets together. Do this with both halves.


Having selected the half you want for the top, draw a center line on this half and draw the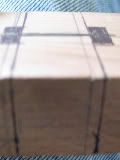 SAC and TSH which should measure 3/8 wide (9.525 mm) (0.9525 cm)by 7/32 (mouth to Foot) (5.55625 mm)(0.555625cm) Do not go larger, this is very important
---