Fellow Lumberjocks –
This is my first ever blog entry now that I finally got everything figured out. Thank you everyone for the kind advice – just what I expected from the Lumberjock community. I was only vaguely familiar with blogging until I joined LJ. I have really enjoyed exploring everyone's projects, comments and blog entries. The amount of information I gather is incredible, I feel like I have my own personal group of instructors providing expert guidance that I can put to use in the shop!
This entry details my third project, a small cherry blanket chest. This project was built in collaboration with a friend, Dan Rickards, who is an accomplished landscape artist in Sisters, Oregon. My wife and I have been fans of his work for several years and we have a number of pieces in our home in Portland and in Sisters. If you like beautiful landscapes and wildlife, his website is worth investigating.
http://www.clearwaterstudio.com/CWS/Home.html
I only mention this because the front of this chest will be a unique canvas for a landscape painting. The chest will then be auctioned at the "My Two Hands" art auction in Sisters this April. I can't wait to see what image he chooses to paint. Wonder if I can get my wife to bid on the completed project . . .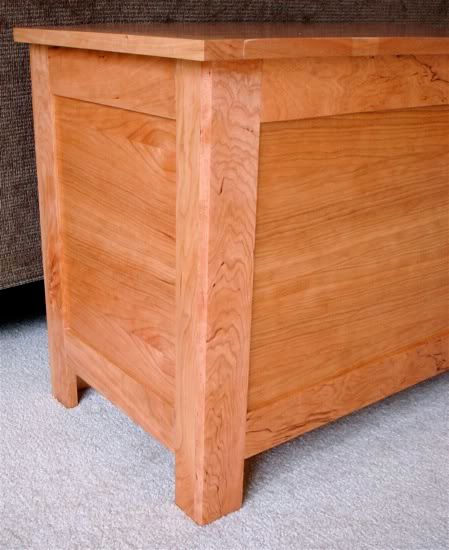 The chest is frame and panel construction with mortise and tenon joints. The carcass is made from 4/4 cherry and 1/4 cherry ply panels. The top is 3/4 cherry ply with edge banding and solid 3/4 cherry breadboard. The bottom is 1/2 tongue and grooved aromatic cedar. The finish is tung oil, 4 coats of blond shellac and 2 top-coats of wipe-on polyurathane. Dimensions are 29" wide x 22" high x 16" deep.
I used a Leigh FMT (Frame Mortise Tenon) jig and a plunge router to make the mortise and tenons. I work out of a small garage shop that I have to "set-up" each time I work on a project. No complaints, as my wife supports this interest and my tool collection! I really like the FMT, but I have to admit, I have my eyes on the Festool Domino that Marc demonstrated on his website: Episode 10- Tenons Anyone? (Pt. 2). That night I had wonderful dreams of things I could make with domino loose tenons!
While I might seem to be in a bit of a rut, as the last project posted was a chest as well, I learned a lot from the first chest, which prompted me to make another to apply those learned lessons. Only problem is that, of course, I learned a bunch more on this one! I do intend to branch out and explore some other projects, although I likely will make more of these chests as I really enjoy them. I think my next project will be a display case for my son's Revolutionary War and Civil War relic collection.
Now, a bit of honesty, as I am sure I am not the first woodworker to make a mistake. Not a very happy experience, especially only hours from anticipated completion. Add to this, Dan was staying at our home while exhibiting at a local show and had planned on taking the chest with him for the painting.
I had ordered a small brass makers mark for this chest. Since it had not arrived, I decided to bore the shallow hole where it would be recessed. Despite best intentions and detailed labeling, I was tired and selected the wrong rail to make the recess. I very carefully layed out the location and bored the recess with a forstner bit. I blacked the recess to highlight the brass tag. Later that day I made a dry assembly prior to glue up and was horrified to see I had made the recess on the lower rail instead of the upper rail. No, I could not just switch them as the upper rail was offset 1/8 to allow for the piano hinge.
My solution was to imbed an Oregon State quarter in the mistaken recess. I got the idea from a favorite website Cornish Woodshop where Alf describes a set of sixpenny bedside tables made as an anniversary gift. This is a wonderful website.
http://www.cornishworkshop.co.uk/sidetables04.html
My mistake would have been neatly covered by the aromatic cedar bottom and associated moldings. However, I somewhat fancied the idea of a hidden coin. Since the chest was constructed in Oregon what better coin than the new Oregon quarter! Below are a few photos of my mistake, the "hidden quarter" and the final outcome.
Inside bottom rail, "the mistake" and soon to be hidden Oregon State quarter
Top molding for the aromatic cedar bottom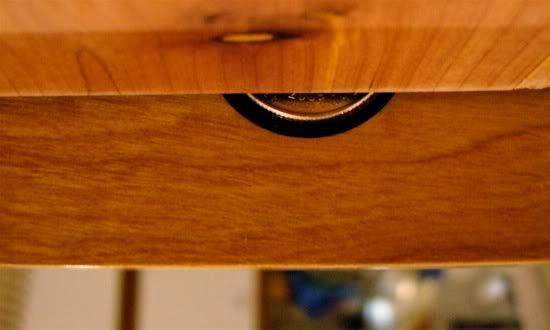 Aromatic cedar bottom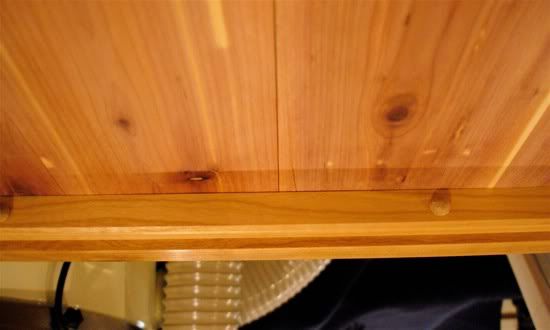 Final bottom molding
One of my favorite "crafts" is making decals for small signs and display plaques. Below are the commemorative decals for this chest. Not something I would do with every project, but something fun for this auction piece. You can the small brass label in its correct position centered on the upper rail. These brass tags were ordered from a wonderful craftsman in England. His website is worth checking out if you like this sort of detail.
http://www.makers-marks.co.uk/
Inside of chest – small blackened recess is for brass label (waiting for it to arrive in the mail!)
Dan Rickards from The Clearwater Gallery will be completing the chest with one of his wonderful landscapes
Brass label from Makers-Mark finally epoxied in place
Thanks for bearing with me as I ramble on my first blog. I greatly appreciate being part of the Lumberjock community!
As a parting shot, my chest is all packaged up for its trip to The Clearwater Gallery for Dan to do his magic! I will post and update with the painted front panel.
Best Regards,
David
Portland, Oregon
-- http://foldingrule.blogspot.com
---