Well, this posting is not woodworking but I thought I would take a moment and share what has been going on at my shop, or more globally, my home. We have a wonderful home that is located on an exposed ridge in the low mountains that surround Portland, Oregon. The exposure is our problem. In the winter we get horizontally driven rain with horrendous wind that gusts up to 75mph occasionally. We are the original owners of the home, which is 7 years old, and now on its third residing due to water damage. Our builder is awesome and has taken care of all repairs.
We now have a building envelope engineer on site that is directing the installation of "rain screen" which is the vertical strips you see on the exposed house wrap. His crew is meticulous paying attention to every detail. Of course we are entering fall / winter and it has been windy with occasional rain! Good news is that my wife has asked me to "take that Jet thing downstairs back to the garage" (I thought it was "my shop"). She is referring to my Jet air cleaner, which I have been moving from room to room to help contain dust when each set of windows has been removed. I erected a temporary plastic wall with painter's plastic and a set of third hand support poles with the Jet running in the room. So far no dust! The fact that the Jet is on its way back to the shop means all the windows (total of 30) have been replaced and things are airtight.
My shop is not useable because both bays of our 5-car garage are being used to store materials. I should be able to start working again at the end of November.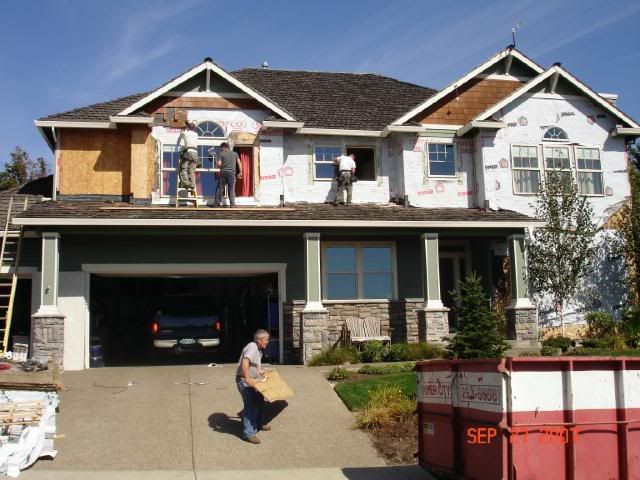 I did get to make one item as the local building suppliers are out of large cedar light blocks. I was out running errands and our site supervisor asked me to get some clear cedar to make some light blocks. I picked up an 8' 2×10 of clear cedar (cost them $40). Like any good LumberJock I turned out a couple of cedar light blocks to keep the project moving. That way we did not have to wait for the supplier to get his next shipment.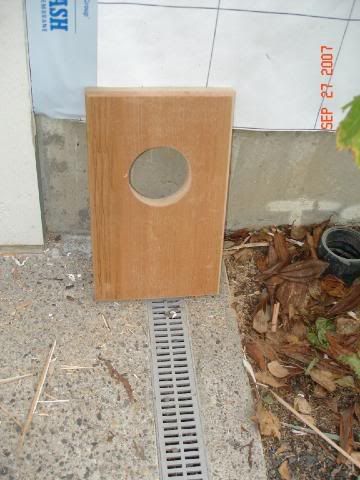 I am hoping to get back in the shop soon. In the mean time I am occupying myself with virtual woodworking activities, which is not as satisfying. I certainly miss the smell of wood and the excitement of applying finish!
-- http://foldingrule.blogspot.com
---