I am fascinated with the mortise and tenon joint, as well as, frame and panel construction. The most current issue of Fine Woodworking set me off on a path to add pegged joints to my frame and panel quilt chests. I like the look of the peg and appreciate the extra strength and longevity that a pegged joint will add to my projects.
WATCH THIS VIDEO FROM FWW
Drawbored Mortise and Tenon - FWW Video - Matthew Teague
The Pegged Joint Exposed - FWW #191 pgs 38-45 - Matthew Teague
I am still playing with this process. but thought I would share where I am at in learning how to peg mortise and tenon joints. I am experimenting with a blind peg (i.e. one that doen't go all the way thru the mortise) and thru-pegged joints. I made pegs from both American Cherry and Brazilian Cherry. I like the constrast of the darker brazilian cherry peg.
My first pegged mortis and tenon joint using a square punsh that I made myself from steel key stock – my punch is a bit different than the one Matthew made.

Close-up of the punch and pegged joint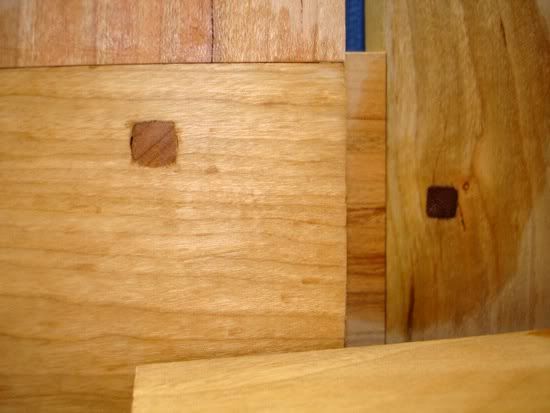 -- http://foldingrule.blogspot.com
---