Yesterday, I posted a taper jig project. The taper jig was used in my entry for the 2×4 Project. Before the taper jig was made, I had to locate a 2×4 to use. This was relatively easy. I knew a local lumber yard carried very high quality Douglas fir dimension lumber for use in finish work. I located a completely clear, tight grained 8' board. The only downside was it cost substantially more than the typical big box store stud. Oh well, this is for FURNITURE, not being stuck inside a wall. The following photos shows one end of the board used.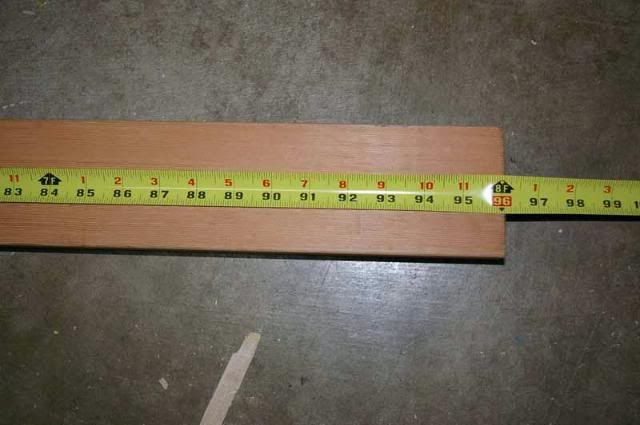 I first cross-cut two 22 1/2" lengths from the stud for use as legs. I ripped one side to remove the rounded edge on each length and then ripped four 1 1/2" square lengths. This left me with two ~1/8" thick x 1 1/2" wide x 22 1/2" long slats with half rounded edges. These were saved for later use. I was very pleased with how well the legs turned out. The grain orientation was at ~45 degrees so the grain looks the same from all sides.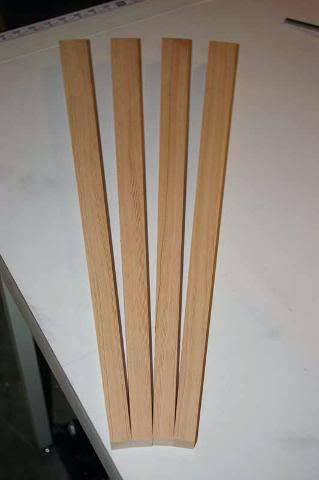 The next steps involved re-sawing one 15" length of 2×4 and part of a second at 7/16" to be glued together to form the table top. The remaining length was ripped to 3" and then re-sawn to create the skirting for the table. The skirting boards were cut to length at 94 degrees to create a four-way, splay-legged arrangement. I cut the mortises in the legs on my router table and rabbetted the tenons also on the router table. The joints went together very well.
The table top was trimmed to 13" width to fit through my planer and then surfaced to 3/8" thickness. I added a mitered and rabbetted edging around the periphery of the top to finish it off and add a bit of strength. These pieces were salvaged from the 15" length not re-sawn and used for the table top.
Finally, I added beading below the skirting, using the ~1/8" thick edgings remaining from squaring up the 2×4 initially. One side was already round and I used a round over bit to relieve the other side.
Small off-cuts were glued to the inside of the skirting and then the top of the legs and the mounting blocks were hand planed flat for mounting the table top.
Here are some shots of the table prior to finishing.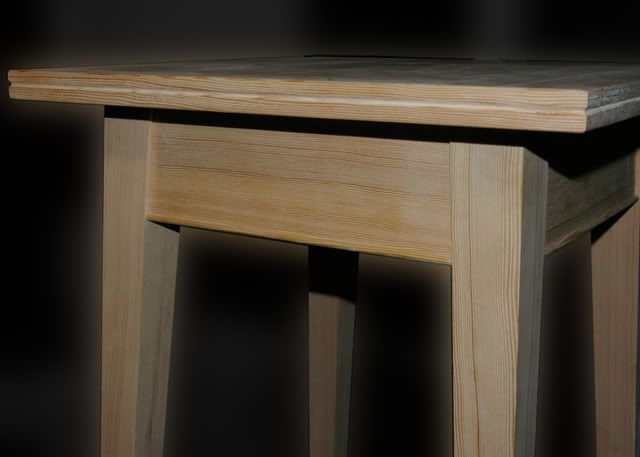 I stained the table with an ebony stain and then applied three coats of wipe on poly, using 0000 steel wool between coats. Photos of the finished table are posted with my contest entry. The tables final dimensions are ~22 3/4" tall by 13 1/2" square.
-- CutNRun - So much wood, so many trails, so little time
---