While completing the tool cabinet, I have also been working on a quick and dirty cabinet to mount my current, knock-down router table top onto. My plan is to make the cabinet the right height so that it can do double duty as an outfeed table for my table saw.
The knock down table was based on the Fine Wood Working design recently provided on line. I have the smaller Triton router mounted in it using a Woodpeck router insert. I love the combination and it serves my needs very well. The support under the plywood top was modified slightly from the FWW design and will allow me to easily transfer the top to the cabinet. With full 1" thick oak supports and a 3/4" rabbetted edge banding, I am not worried about the top sagging. I enjoy the large work surface as well.
The cart has non-swivel wheels at one end and two adjustable jacking screws for leveling at the other end. I plan to just pick up one end of the table and wheel the cart/cabinet around like a wheel borrow when I need to move it. The upper shelf will have a tray to catch the few shavings that drop below the router. The dust collection with this set-up works very well. There is virtually nothing on the ground below the router when I use the table currently.
I would heartily endorse the Triton router and the Woodpeck insert and like the simplicity and large size of the FWW table design. Oh, I also shifted the router toward the back of the table a bit from the FWW design.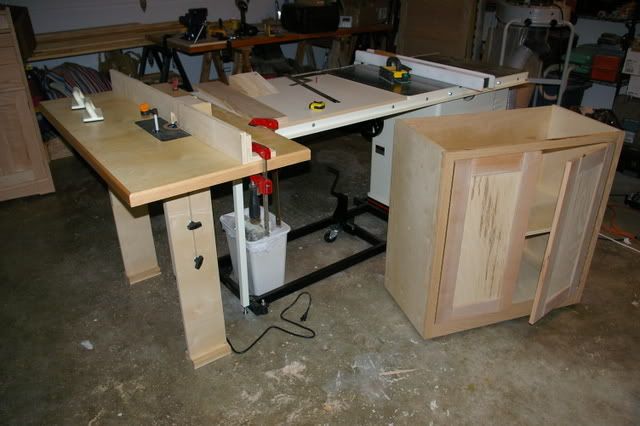 -- CutNRun - So much wood, so many trails, so little time
---