I didn't make any headway on my cabinet today, but did make progress on my shop equipment. This morning, a friend and I rented a U-haul trailer and picked up some new woodworking machinery. He purchased a Powermatic 15" planer/molder and a Jet free-standing buffer. I purchased a Jet 10" Left Tilt Cabinet saw. I also got a great deal on some Jet clamps. As everyone here knows, you can never have too many clamps. After scratching our heads a bit, we were able to unload both tools at the respective garages and I started to open boxes and assemble my new saw.
I purchased a Delta mobile base for the saw and the saw fit perfectly. I liked the rectangular framing better than the single extension of the HTC base. Things went together pretty well and I was as thorough as I could be to ensure everything was square and adjusted correctly. The mobile base works great and is easy to move. I attached the legs to the outrigger with angle brackets and adjusted the feet so they are on the ground when the wheel is up.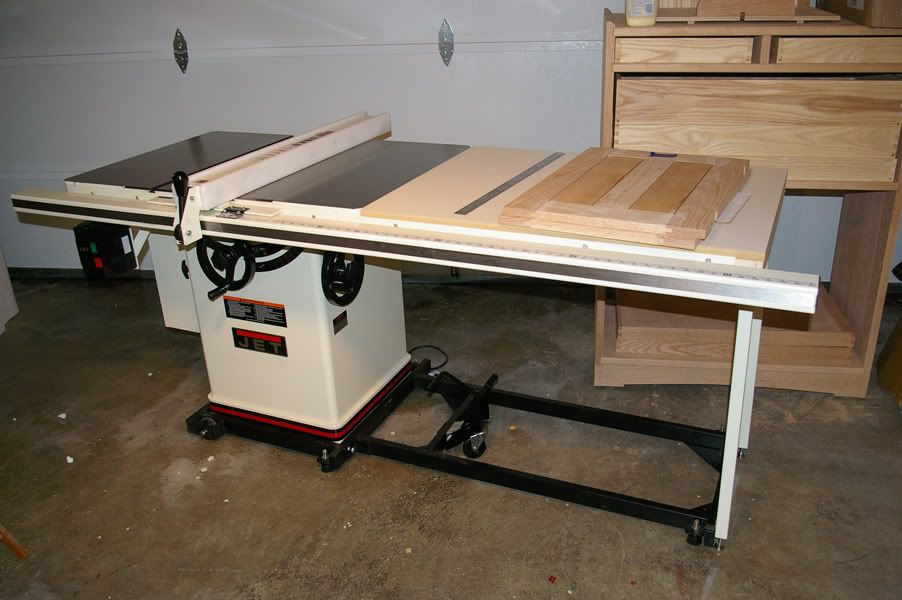 I relocated one breaker in my box to free up two side by side slots and will install the 240V outlet tomorrow. Can't wait to make more sawdust. I also removed the runners from the bottom of the sled/box joint jig I had just made for the old table saw and put new runners on it to match the spacing of the miter slots on the new Jet saw. Naturally, they were not the same spacing.
-- CutNRun - So much wood, so many trails, so little time
---