I took the time to construct a top feeder this weekend. Until now, I was primarily feeding the colony with a pie pan of sugar syrup set beside the hive entrance. They thoroughly enjoyed the setup, but such a practice is bad for many reasons. It attracts ants, wasps, yellowjackets, and other honey bees who rob the food. It may also do the worst and attract a raccoon or skunk which might try to topple the hive or break into the top. It is also prone to wind, rain, and evaporation, not to mention that the bees won't feed on it at night.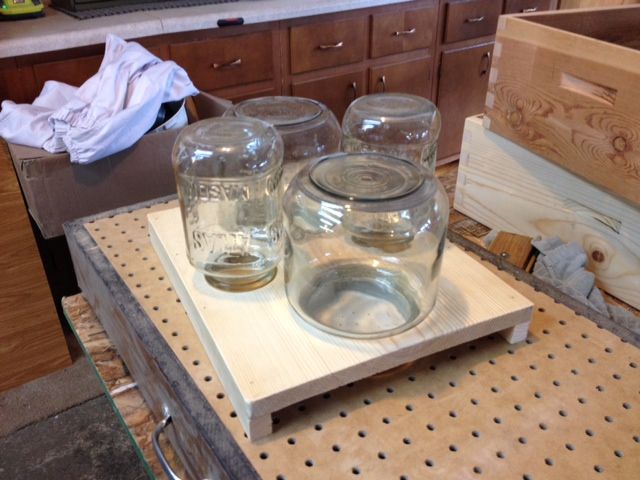 My inner cover has a hole in it to allow access to the attic area of the hive, so I built this little platform to hold jars above that inner cover. The bees can climb up through the hole and stand below this little platform to access the holes in the jar lids. The platform leg cleats are tall enough to allow 3/8" clearance for the bees under the big jars which rest with their glass necks on the wood. The two smaller 1 qt jars sit slightly higher and rest on the rim of their lids. For those jars, I poked the holes closer to the edge so the bees can hang on the wood lip and get the syrup.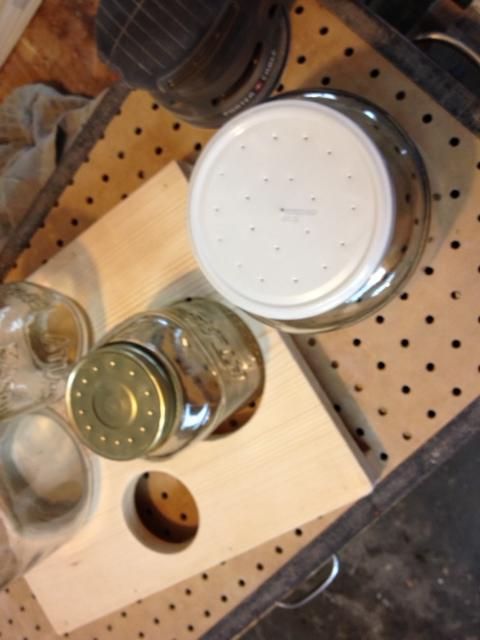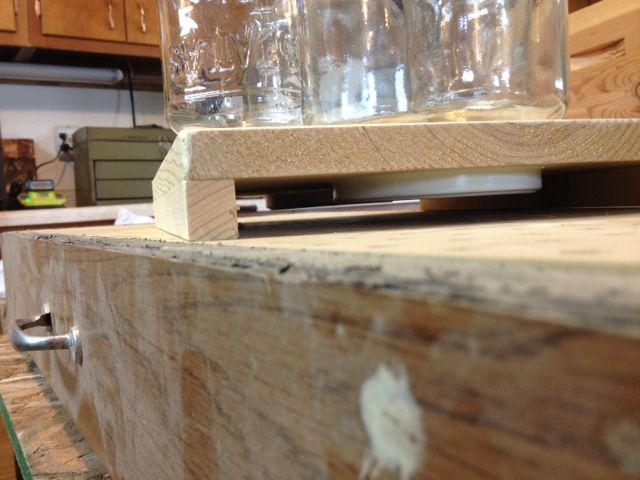 The two big jars are about 1/2 gallon and are maraschino cherry jars from my days as a bartender. They're perfect for this application because they're squat enough to fit inside a medium sized honey super. The two other jars are Classico spaghetti sauce jars. Total capacity is about 6 quarts which will last them about 5 days right now. I'm buying sugar in 25lb sacks at Sam's Club.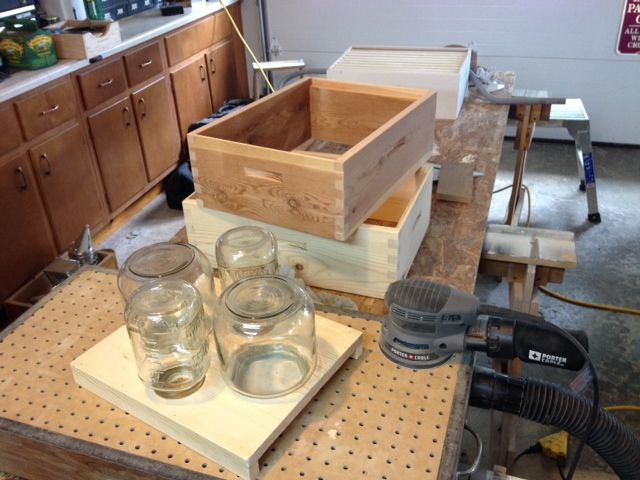 You can see two new medium deep honey supers I built over the weekend also in the background. The feeder is in place right now and the bees are still happy and busy. I added a squirt of honey to their syrup this morning to give it a little more authentic flavor.
-- Matt CueBall Rosendaul. I don't think I've ever had a cup of coffee that didn't have cat hair or sawdust in it.
---