I haven't seen a honeybee on my property for two years now, and being a man of action, I decided I needed to do my part and help the bees. After looking at the price of boxes from apiary supply houses, I decided to build my own hives. I'd like to have a top-bar hive, but the gentleman who is selling the bees to me urged me to use a traditional Langstroth hive because his bees have lived in vertical boxes for hundreds of generations and they might not understand what to do in a top-bar and may just fly away. In addition, since I'm in central Michigan, they seem to have an easier time keeping a vertical hive at survival temperatures than a horizontal hive like a top-bar.
Off to the internet to google some plan ideas and get the dimensions and returned to the shop with a printout from page 10 of Beekeeping Basics, a free e book . These diagrams are the best dimensions and easiest to read that I could find, however it was difficult to see that the width of the boxes was an INSIDE dimension not outside, so I ended up with a 9 frame box. I'm buying the frames to go in them, so I didn't make those, but the boxes, bottom board, stand, and roof were made with the box joint jig and almost all scrap pine pieces. I did have to buy one 1×12 for the deep hive body box. I'll be building a few more boxes later this summer as the hive (hopefully) grows in population.
When I picked up the bees a couple days ago, I bought an off the shelf standard box so I could more accurately copy the dimensions. He was selling some nice boxes for $16.95 each unpainted.
The bodies are simply a four sided box with a rabbet on two ends for the frames to rest on. The bottom board is built into the short stand and has a slide out bottom (for inspecting their trash and cleaning purposes) and it has a place for a screen above the slide out. In the hottest days of summer, I can remove the board and just leave the screened bottom open to keep them cool. The screen I'll be putting on the bottom board is 1/8" hardware cloth which I was NOT able to find anywhere locally, so I bought a small roll on Amazon that was the right size.
The entrance cleat is a nifty little device, simply ¾" square rod that fits in the opening. During busy times, it can be removed, but in winter it can be rotated to reveal a smaller opening. This smaller opening is easier for them to defend if the hive is getting robbed by other bees.
The roof is heavily painted 1/2'' plywood with a 2" overhang all around. The joint is glued and caulked, but I also covered it with a sheet of aluminum to help shed snow and make it impermeable to the elements.
Since I wanted to install them in an out of the way spot, I needed to build a platform to stand on a hillside to keep the hive off the ground and make it level. Luckily, when my daughter and her husband tore down their deck, I made off with a lot of scrap decking and old 4×4 posts. I decided to just place the feet on these round concrete pads instead of burying them or setting them in post cement because I'd like to be able to move the platform if necessary and there was water and rock about a foot into the first hole I tried to dig.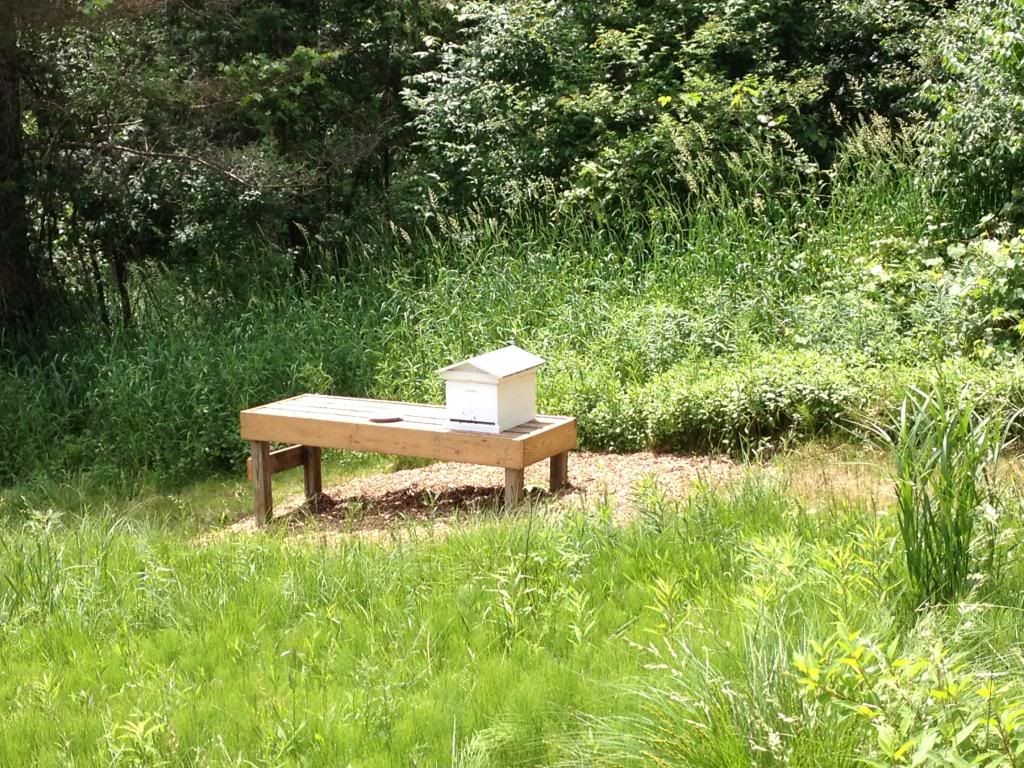 I'm picking up the bees tomorrow evening and will give an update after I get them settled in. Barring any disaster that is.
-- Matt CueBall Rosendaul. I don't think I've ever had a cup of coffee that didn't have cat hair or sawdust in it.
---