Hi LumberJocks!
I've just recently joined LJ after being a long-time reader. Thanks to everyone who participates in the discussions here. Your wisdom and experience is invaluable, and you are are generous to take the time to share.
You can check out my page to learn more about me and my shop, but in a nutshell I am a fairly amateur woodworker working to set up my 2-car garage into a functional workshop. We'll keep 1 car in most of the time, and I need to get set up to build shop cabinets & a portable bench first, then some built-ins for either side of the fireplace, then I'd like to move into some 'finer' woodworking projects.
This blog will document my quest to get the shop setup and ready to go. My plan is to get it in good enough shape to get the built-INS done by the end of this year. The garage is pretty stock right now. It's an 18 ft wide by 21ft deep fully drywalled space, and needs electrical, lighting, and storage upgrades.
Current State:
Electrical – I have 2 panels (150 A each) flush-mounted in the drywall. 2 110V outlets ( 1 dedicated to the sprinkler).
Lighting – typical garage style. 2 incandescents and the light on the garage door opener. There is a beam across the ceiling near the back that worries me a bit that it will block any new light fixtures.
Storage – not much. A few open plastic shelves, an old desk, and a craftsman workbench.
Here are a few pics of the garage (can I call it a shop yet?) in it's current condition: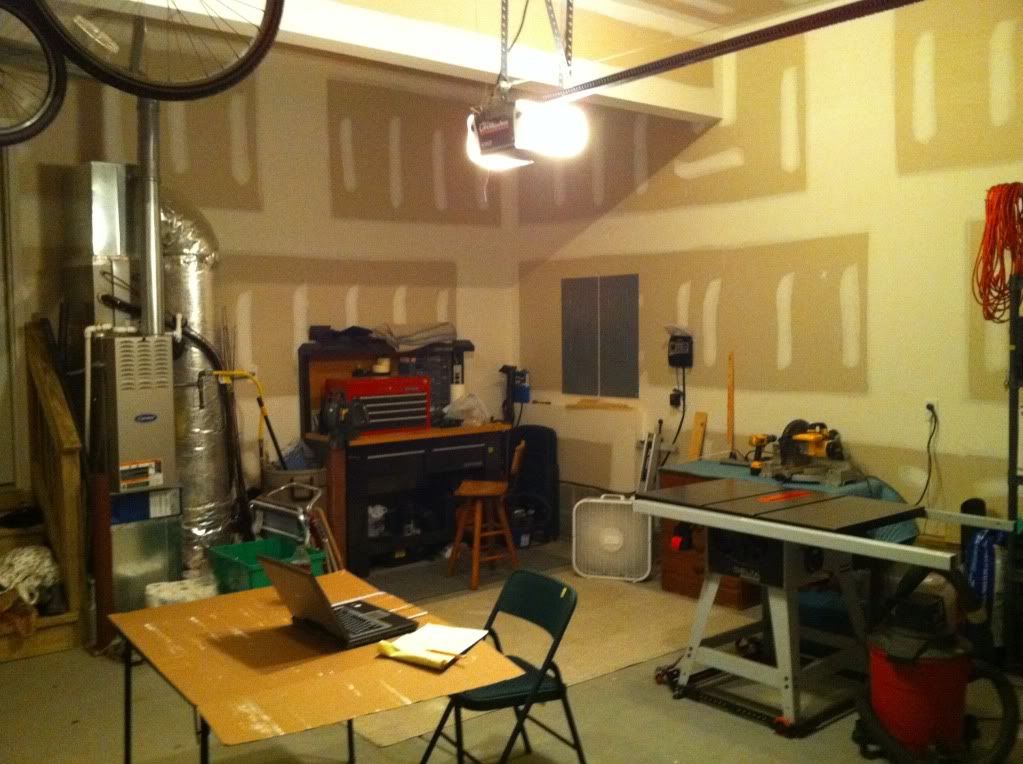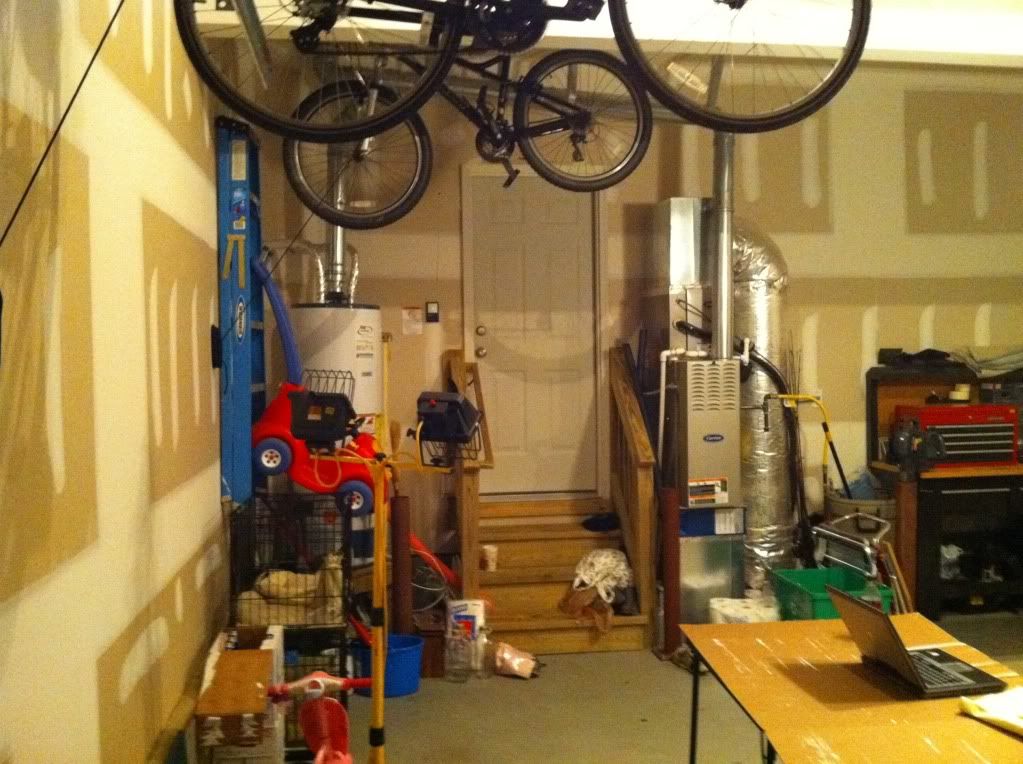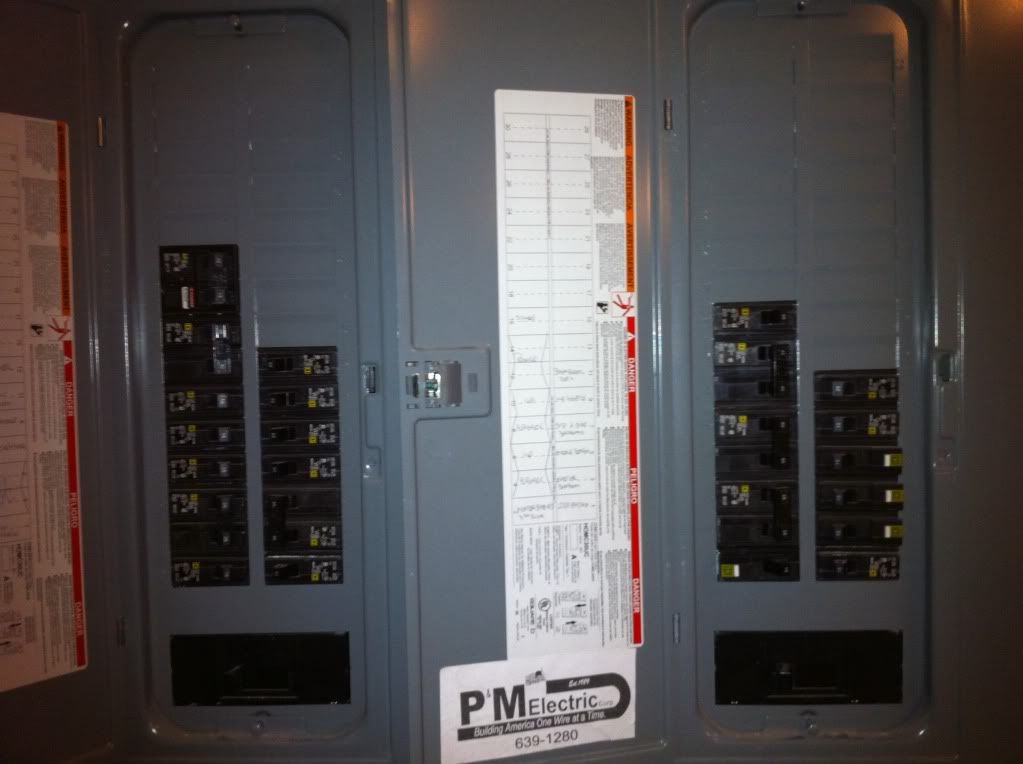 Future State:
Here's the layout I'm looking at. I want to get the layout nailed before starting the electrical work. I drew this up in Visio with the help of some woodworking-specific templates created by Harvey Chute (thanks!).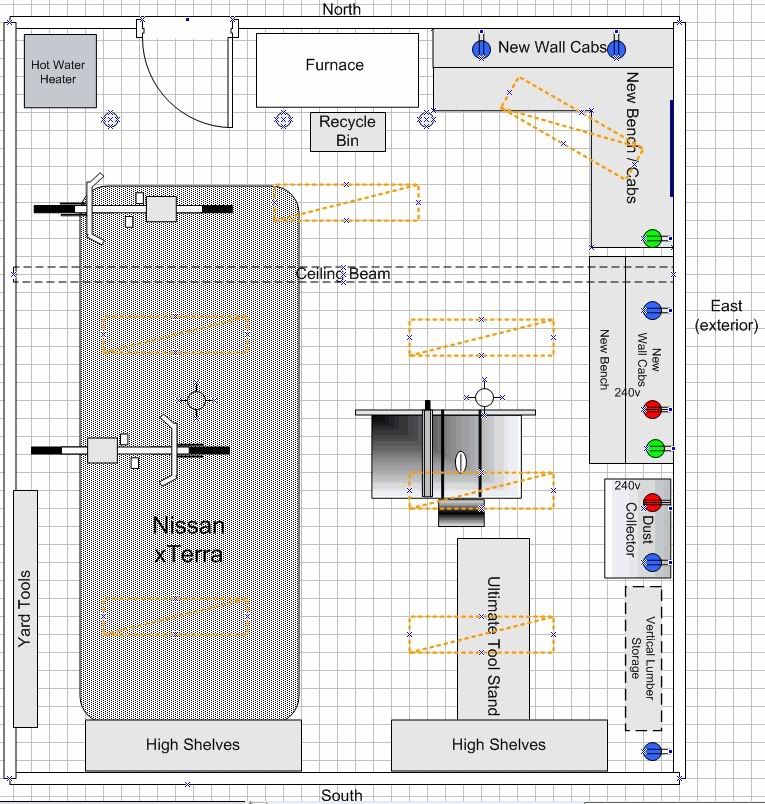 The garage doors are on the south side. The green circles are the existing 110 outlets. The blue and red ones are locations I'm considering for new 110 and 220 outlets, receptacles. Im planning to convert my Delta contractor saw to 220 and also need 220 for the Grizzly 1029z2 2hp dust collector I just picked up on Craigslist ($150 brand new -is it too early for my first tool gloat?). The orange rectangles are where I'm considering fluorescent light fixtures.
One of my first shop projects will be the 'Ultimate Tool Stand'. If you're not familiar, it's a modular bench with an interchangeable center space that accepts different tools once you add a simple base to it. I like the simplicity and multipurpose design. This wiIl house my miter saw, router table, downdraft sanding station, etc. don't have much room obviously so this will also work as my outfeed table. With the saw placed where it is, I can get a full sheet of plywood on both the indeed and outfeed side of the saw without opening the garage door. Could be handy with the winter approaching!
So, that's my current plan. What do you think? I'd be grateful for your critique and suggestions. Thanks in advance!
-David
-- David in Richmond, VA
---