Well Folks,
I'm going to make this the final posting on this project. It has some minor things to be done but I'll just call it complete.
If you are wondering what has to be done is for me to practice my calligraphy writing for a few days then sign the clock face, add a border under the arch and seal it.
Where it's setting now is only temporary so I'll not bother leveling it precisely, it's leaning forward some now.
My wife has done a good job painting the face and after some more practice she is going to offer her services to other clock builders. I think she will do well.
Here s a picture of the whole clock.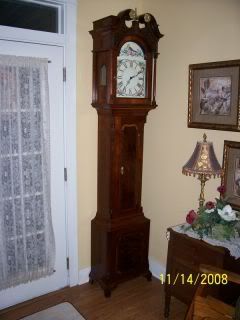 Here's a close up of the hood and face.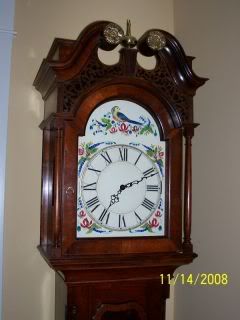 This has been an enjoyable project and I appreciate all the great comments from other Lumberjocks that have provided a lot of encouragement.
Now if I had some real good cherry and another face from the wife————-
Thanks again!
CharlieM (the OTHER CharlieM)
-- God makes the wood beautiful--I simply rearrange it to make it more useful, hopefully.
---