I thought I would give an update on the Grandfather Clock build I am currently on.
Here is a picture of the Clock Face My wife has painted for me. We decided to stay with a floral and bird style face for both the color and simplicity. We still have some borders and signatures to put on before sealing.

I also have stained the case trying to duplicate the color of old walnut. Here's the hood.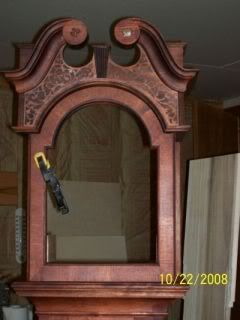 The case is below.

I have rubbed in a coat of BLO and pumice as a filler. I'm now waiting for it to dry so I can start with some shellac as a sealer.
I'll post again soon.
The OTHER Charlie M. (Mullins that is)
-- God makes the wood beautiful--I simply rearrange it to make it more useful, hopefully.
---