As promised, here is the final installment on the Walnut Display Cabinet.
First I wanted to show how it looked after bleaching. It was interesting to say the least. This is my first time with this procedure. Bleach, stain and finish. I keep coming back to, a lacquer finish. Maybe I'm just lazy but it is faster and I can control it, Usually. But any way——
Here it is in the house with the phone on it. There are no glass shelves in it as yet, I'll get them in a couple of days. Also if you look closely, the glass is still dirty. I couldn't clean it very well because the putty is still soft and I might push out a glass. Mentioning the glass, it is old glass I got from an old house that had the windows replaced. Some if it has small bubbles and all is wrinkled. I think it makes it look classier.
The next picture is of the cockbead on the doors and drawers. If you remember I goofed and cut too deep on the door lip and rather than make new doors, I just put on cockbead instead.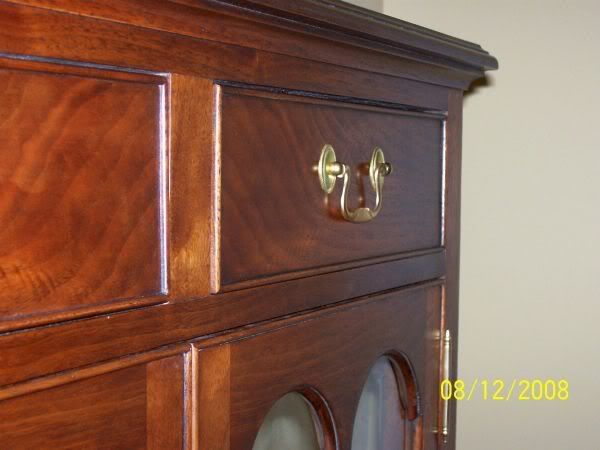 Last is a picture from the side. You can see the shelf frames to hold the glass shelves. You can also see that it has a mirror in the back. This was also some salvage. My neighbor was going to throw away a mirror on an old dresser so I got it before he threw it!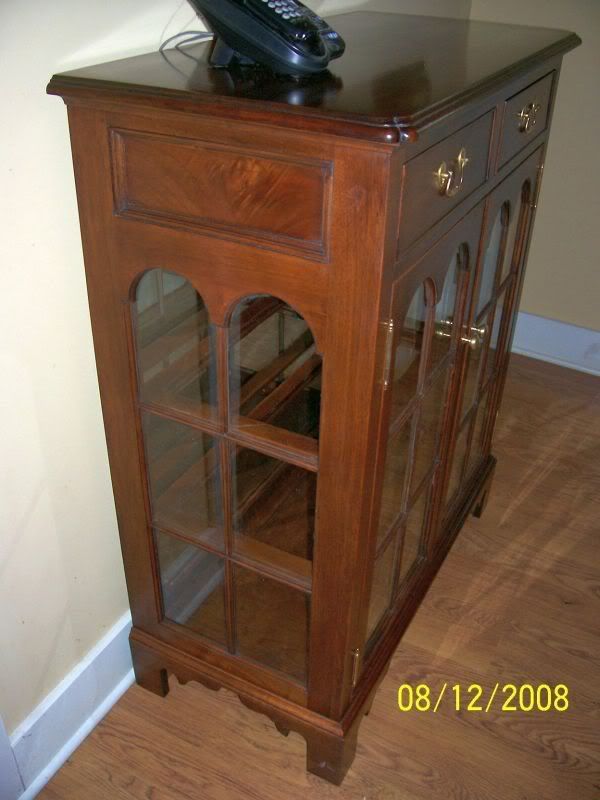 Well this has been a long and somewhat interesting build but once again, ignorance and brute force overcomes skill and cunning.
I hope you all have enjoyed this as much as I have. P.S. The wife is really tickeled.
Charlie M.
-- God makes the wood beautiful--I simply rearrange it to make it more useful, hopefully.
---