Well, they say confession is good for the soul and I need all the good I can get so——
when I was cutting the lip on the doors, I went too deep and ruined the pretty little roundover—-so what to do??
I decided that a cockbead would be the easiest way out without making new doors. Didn't want to do that—lots of work! I also had to cut off the lips on the drawers and cockbead them.

I have hinged the doors and made a final fitting to the drawers and I thought everything was going great! NOT SO!
The bail drawer pulls wouldn't tighten up enough to hold the ecutcheon without binding the bails. So I have sent Horton an email to ask why.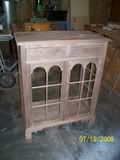 Well anyway, I have only to sand/scrape to get it finally smoothed up, bleach it to get a more uniform color and stain to get the old color I am after—you know, the orange/brown color of old walnut.
I was lucky to find some people that had new windows installed in their old house and I got all the old sashes with the older wrinkled and some times bubbled glass for FREE! That's what I'll be installing after the finish. The glass shelves will be 1/4" modern glass.
The next installment will probably be the completely finished project and then I can devote my time to finishing the Tallcase clock (along with some honey do's).
Charlie Mullins
-- God makes the wood beautiful--I simply rearrange it to make it more useful, hopefully.
---