I thought that some of you LJs might be interested in seeing a carving project come together from start to finish so this years large carving project I will bolg for you. Keep in mind that this just doesn't happen over night so this will happen over the next couple of months.
Every now and then I can come up with an idea of my own, The Shroud, but I also will use pictures and modify them to my needs. This year I chose to use a picture for my large carving of the year. Now this might not look large in size but the "don't get the cart in front of the horse" quote sure holds true here so this will be and challenge.
These are the pictures of the original drawing and of my motified drawings for this carving.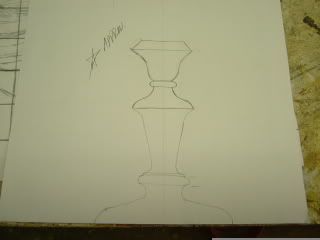 -- " All Things At First Appear Difficult"
---