This past week I was able to get a good start on this wonderful challenge of creativity and woodworking skills. This has taken plenty of design, thought and time up to this point. I'm not very good at this design thing. The legs are walnut and the aprons and stretchers are made of butternut. All the joints are mortis and tenons. Take a good look at this now because in the next set of pictures there will be a metamorphosis in this table.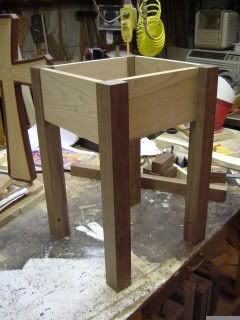 http://i134.photobucket.com/albums/q96/Carverrog/thornsonsidetable021.jpg
-- " All Things At First Appear Difficult"
---