I was just as surprised as Mark was to get a Lumberjocks tee shirt but with Best Creativity Winner on it! Many thanks must go to all that took part in this contest and to those that thought that mine was worthy enough to vote for and also to Martin who without we wouldn't have this great site. I'm not as photogenic Mark is but I gave it my best shot.LOL. I figured if Mark can give you the Hulk Hogan look I can too.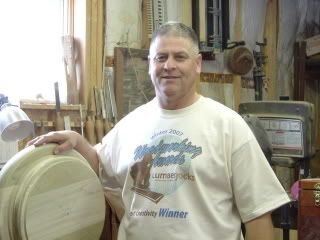 !http://i134.photobucket.com/albums/q96/Carverrog/Lumberjock004.jpg(Thanks
-- " All Things At First Appear Difficult"
---