Well, MsDebbi was right I'm raising the roof line up 2' in the living area.
I was told by my wife that this project has to be done in no more than 1 year, my boys graduation. There is no going back now! To start with there was and existing fireplace and I knew that I was going to need all the chimney brick I could get so I had to remove all the brick one by one and then clean off all mortar so they could be reused. These picture shows where the chimney was located and it also shows the new foundation for the screened in porch. The reason for the styrofoam is that some day in the future I plan on heating this. Oh, did I say that I dug all the foundations by hand!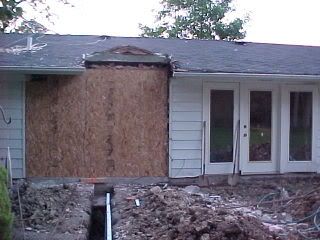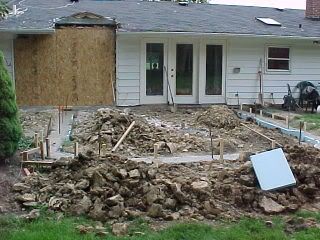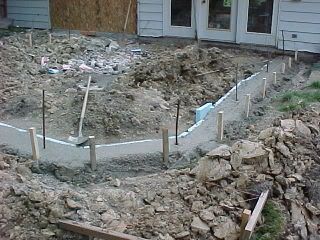 Completed first challenged.
Round 2 of demo!
My plans were to have a Amish crew help me get the old roof off and the new roof on. In order to speed the demo process up I had to reomve all the ceiling joice and temperarley support it to keep the roof from pushing out the exterior walls. Now you might think this looks like a mess, you should have seen it with the insulation and drywall down! Now we had to live in this space for a week or two because remember this is being done by my wife and me. Mostly me!
Here we are removing the roof, 95 degrees and humid!
Gone!!!
This demo part took only 2 hours because I had everything loose inside.
Now it's time to put back together, Oh boy!! All the Amish were to do was help me get the roof back on with shingles. The inside work was all mine.
You can see by this picture the 2' knee wall that raises up the exterior walls.
This beam supports all roof rafters.
This is the new porch area.
Roof raising completed after one hard and hot day of work! You sometimes have to shoot from the hip when doing things like this.
Enough for now. Next up interior work for me.
-- " All Things At First Appear Difficult"
---