Now it was time to attach the shelves and sub top. I set up another hillbilly out feed table similar to the other one so I didn't bother photographing the sheet ripping and cross cutting process. I had to cross cut the sheet with a circular saw and a straightedge but it came out perfect…well actually I was 1/16" too long so I hit it with my router and a flush cut bit and a starightedege..and then it was perfect!..
And the shelves were perfect right off the saw..I am so impressed with that Biesmeyer fence system. It glides smooth as silk, locks up tight with no deflection, the fence faces are long and smooth..and once I dialed it in with some scrap wood and my dial calipers, it cuts deadly accurate..all the way out to 50"..I know this because I was checking every cut with my tape for the first few cuts then I thought….why bother. It cuts to whatever I set the fence too..I know that shouldn't be a big deal, but when your used to not trusting your fence..old habits are hard to break!....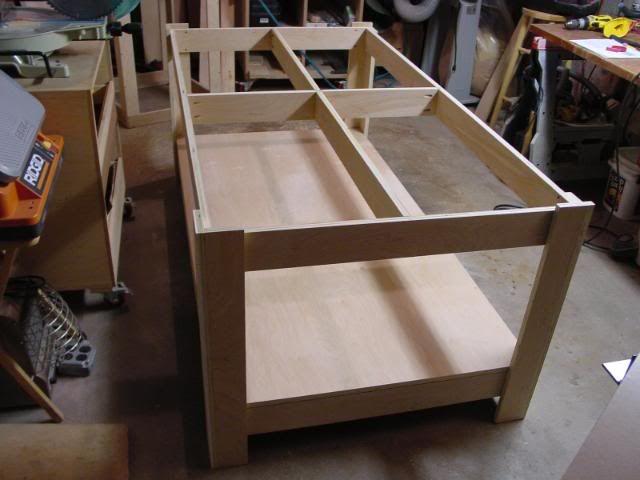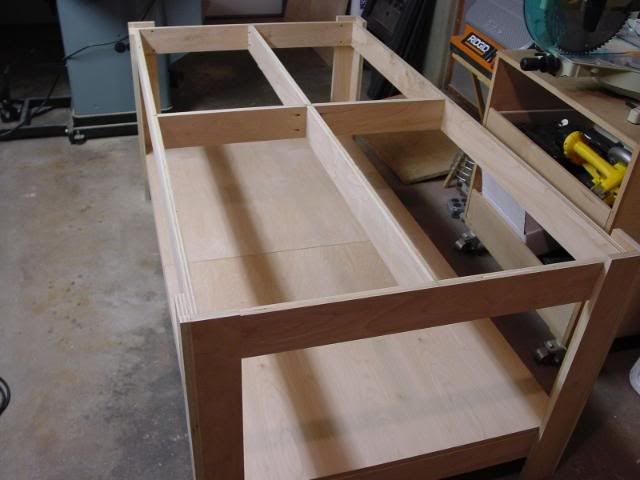 So, a couple 30 screws later you have this..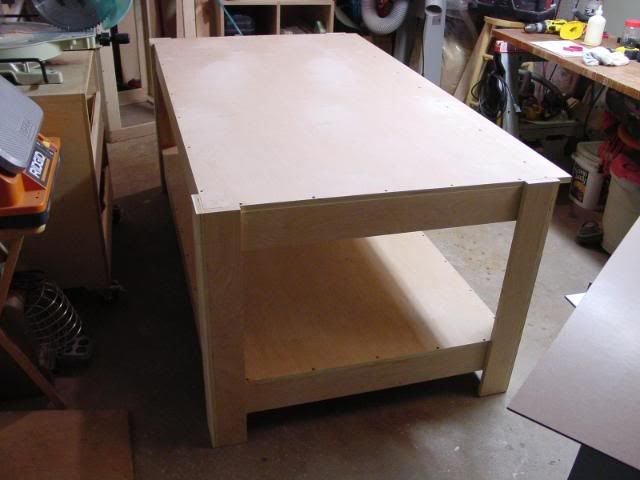 Then I glued and screwed on all the trim panels..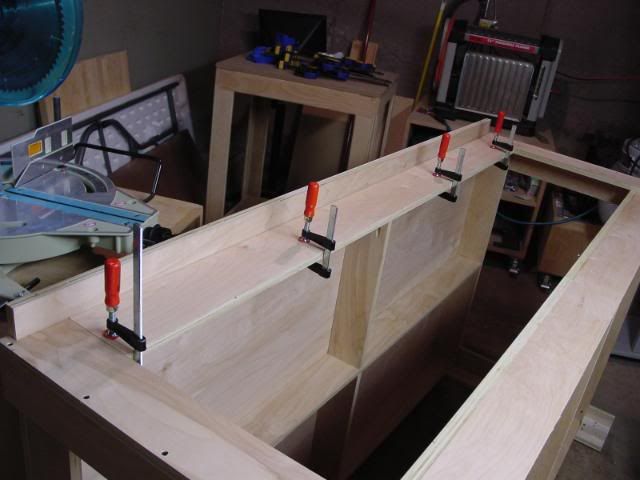 Then I dry fit the hard board top..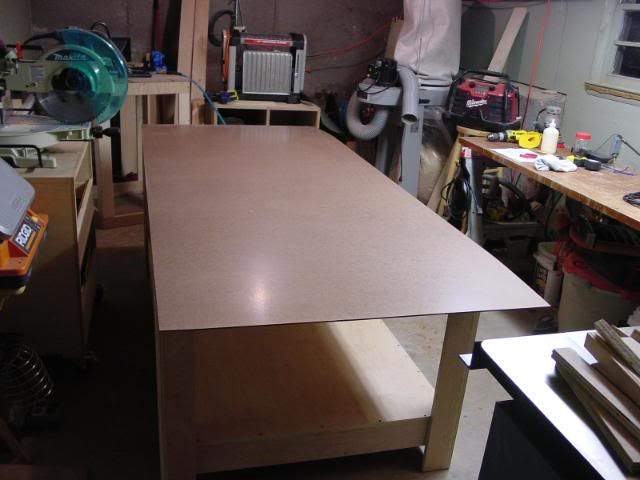 I was going to leave it big on all sides and cut it down with my router and a flush trim bit but I stupidly set the saw to the finished width and it's perfectly sized for that. I was going to use a lighter coating of contact adhesive to hold the top on but I don't have any wiggle room and I don't like using contact adhesive without hang over on all sides. Maybe I will just use small dots of wood glue..i want to be able to change it out in the future if need be so I don't want it glued down too well…but I don't want it to move or pop off either…any suggestions?
So now it was on to the wheels. I cut some blocks from solid 1 1/2" square hard maple. My plan calls for 2" square, but it was all I had without doing a glue up so I went with it. I don't have a drill press yet ( I will be getting one this week, with the money I have left over from my table saw purchase) so I have to use this little kit I got at Woodcraft to help drill perpendicular holes. I struck two lines across to find center then clamped it in my vice and marked the center with a special punch.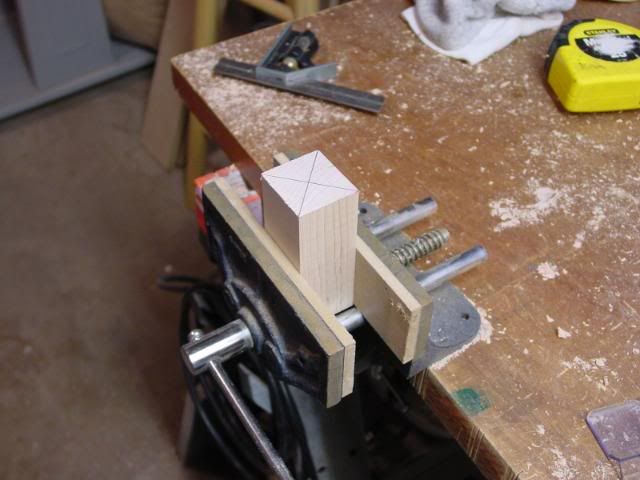 Then I use the guide with a special bushing in it that holds the center punch. I line that up till the punch drops in the hole…that lines up the jig to center.
Then I remove that setup while holding the jig in place and drop in a bushing sized for the drill bit I am using
Then drill my hole…NOTE: Hold down hand removed for picture taking….
It ain't the greatest system..and its a little tricky to use..and I wasn't using brad point drills so my holes wandered a little but stayed perpendicular. Then I drove in some T Nuts..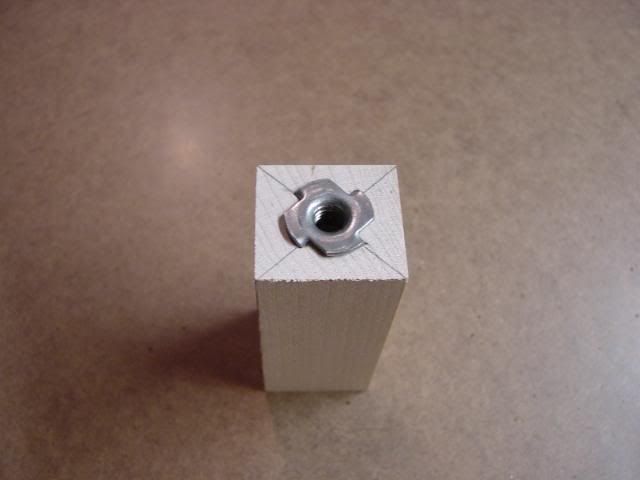 Dry fit of the wheel setup..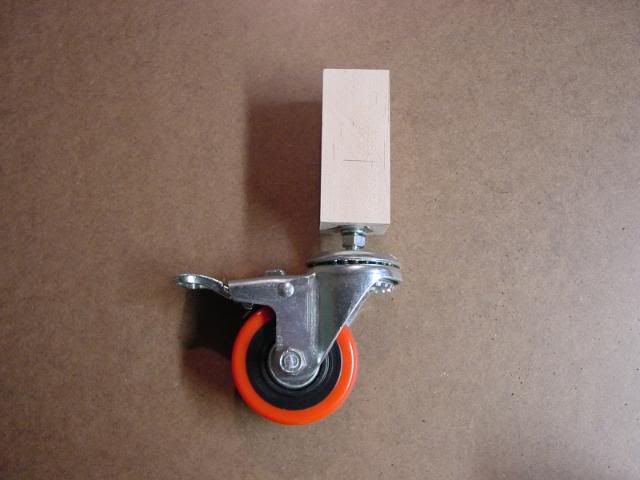 Then I glued and screwed the wheel blocks to the legs with 2" counterbored screws, going into each leg part
Then I mixed up some 2 ton epoxy and cemented the T nuts in..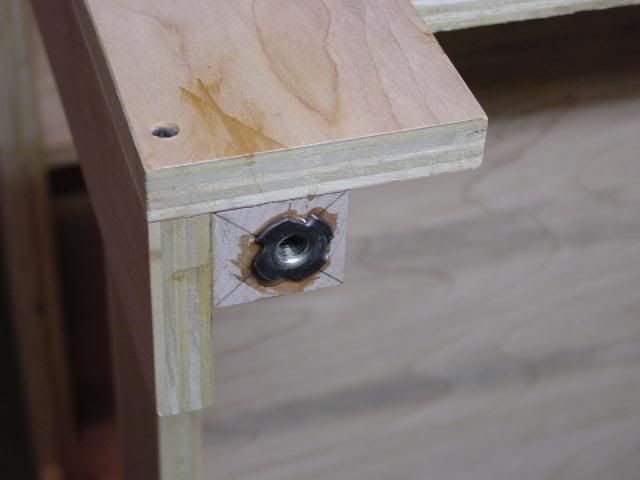 All wheeled up..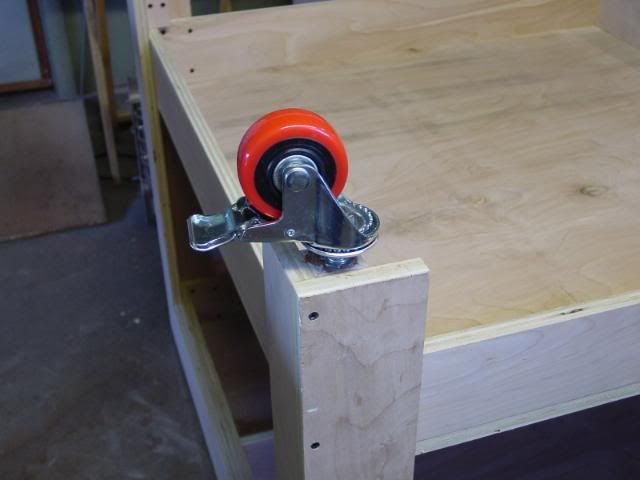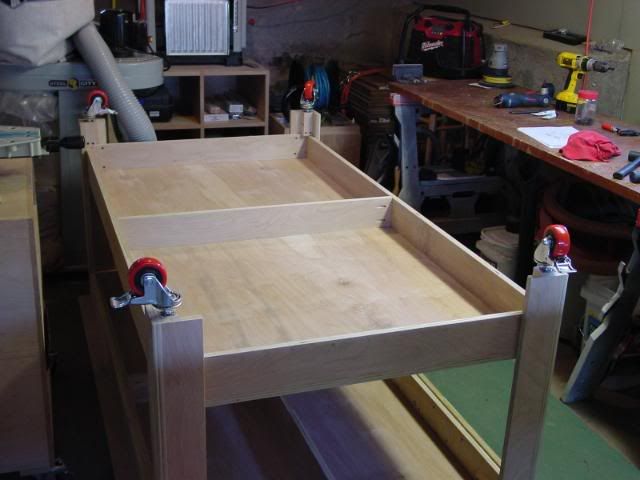 -- http://www.facebook.com/pages/DSO-Designs/297237806954248
---