Well it was my plan to update this blog as this project progressed, but life is a little crazy right now. Those of you with kids know what I'm talking about. I don't actually have any yet, but getting ready for this one has added an extra level of busyness I didn't account for.
We had a baby shower last weekend and my wife was pushing to at least have one of the 2 pieces of baby furniture done for that weekend (the other being the crib). Fortunately, I was between jobs (carpenter/cabinetmaker) so I put aside a week and a half to get this piece done. Finished it the morning of the shower. Woo Hoo!
As I mentioned in a previous entry, I planned on using mostly 4/4 Sapele Mahogany, but All I could get at the mill was 6/4. After quite a bit of jointing, re-sawing and planing, I was able to get the Sapele a consistent 11/16. It turned out to be a more economical use of the wood, but was a lot of extra work. I should note that on boards that were wider than 6" (the max re-sawing capacity on my bandsaw) I had to rip it to 6" or less first, then re-saw it, then glue it back together. A PITA, but worth it to keep the look of the wide boards.
Here's a few pics:
Just the Carcass – Secondary wood is Maple.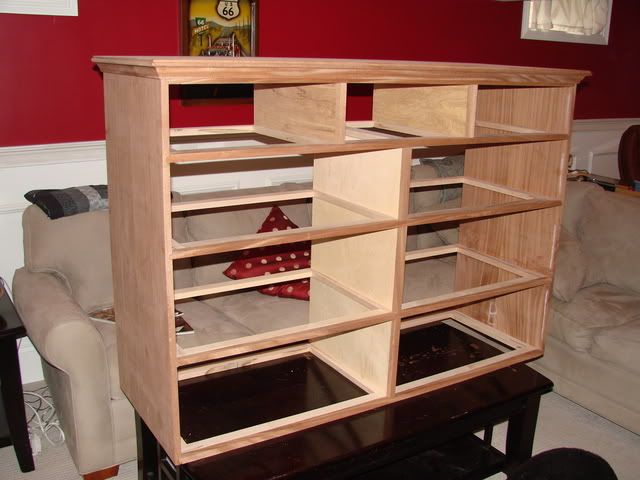 Drawer Joinery Detail – Drawer lock router bit pinned with Mahogany dowels.



Detail of beading around drawer.




Shot from the side – I just love the grain.

Each row of drawers was made from one long board so the grain looks continuous. Actually the top 2 rows were made from 1 board (resawed) and the bottom 2 rows were made from 1 board. It made for a really nice effect.
The finish was borrowed from our old pal Norm Abram. A 5 step process and worth every minute.
1. A coat of Minwax red mahogany stain
2. A coat of wax free shellac
3. A oil based neutral paste wood filler
4. A coat of walnut get stain (walnut just because I had it on hand – I tested it first and it looked good)
5. Several coats of minwax wipe on Poly (semi gloss)
I LOVE the finish. In person, the wood looks like it's 3" deep. I've never had a finish come out this good.
The last part of this project is a frame that goes on the top to steady a changing pad and the necessary lotions and "Stuff" that you need to change a baby (obviously I still need to figure out what these things are, huh.) It's attached in the back and can easily be removed once diapers are no longer in the picture. (can't wait for those days).
Well, that's about it. I'd love to hear your feedback. I'll be sure to post pictures of the crib when it's done, and possibly another blog entry then.
Thanks for reading,
Bob
-- Bob B - Warwick, Rhode Island
---