My Workbench Saga
I am a relatively new woodworker. I had grand visions of building furniture when I started on this quest nearly five years ago but all I have managed to actually build are storage sheds, animal shelters, and a couple of amateur shelving units that I am embarrassed to show anyone with real skills. My journey toward building an actual piece of furniture I can be proud of has progressed in fits and starts. I have read countless books, magazines, web articles, and forum posts over the years and have learned a few profound truths. One is that no two woodworkers agree on how to do anything. Two, there are many ways to accomplish the same goal. Three, what works for someone else might not work for you, no matter how hard you try.
This year I finally decided to make my woodworking hobby a priority and really learn how to do things right. I had originally planned to go the power tool route so I spent a small fortune on a Festool saw and MFT, router, and jig saw. I also bought a table saw, thickness planer and a variety of other power tools. I got a permit to wire up my 12×20 shed with visions of an 8 inch jointer and 17 inch bandsaw in my future. Well, I never actually got the shed wired and I still don't own a jointer or a bandsaw. Life got in the way for a while and I got busy with other things. When I finally came back to woodworking this year I read Jim Tolpin's book: The New Traditional Woodworker. I drooled over the pages of hand tools and all the things you could do with them. All without the noise, dust, and expensive wiring the power tools required. OUCH! I had been bitten by the hand tool bug.
I am a geek. Professionally and personally. When I get interested in something, I read, watch, or listen to everything I can find on the subject. Tolpin's book was just the beginning. I got Paul Seller's Artisan DVD series and book next. Then I got David Charlesworth's DVDs from Lie-Nielsen. Then Jim Kingshott's bench plane video. And I recently ordered the full Christopher Schwarz collection from Popular Woodworking. Hey, it was a limited time offer of the whole shebang for $99. Who could pass that up? So I have been watching and reading and practicing and realizing that I suck at woodworking and have a lot to learn. I have also managed to spend another small fortune on hand tools, but that is another story.
All of which leads me to the workbench. My first workbench was built from this 2×4 Basics kit: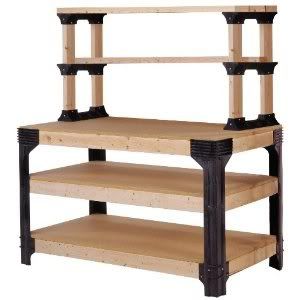 I bought the kit from Amazon and the lumber from Home Depot and built it in a weekend. I thought it was the greatest bench in the world. It was big and sturdy and had this nifty little plastic clamp to hold your work. Then I started reading about hand tools and Roubo benches and Nicholson benches and tail vises and bench dogs, etc, and I realized that this bench wasn't going to cut it. So I decided to rebuild my bench and make something new and better. Here is what I built: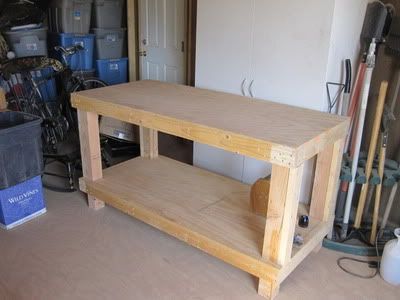 I thought I had a really killer bench this time. Then I bought a Wilton 10 inch vise. It arrived on my doorstep and I tore it open eager to mount it up. Uh-oh. This thing weighed 35 pounds and needed a 3 inch thick bench top. Three inches! My bench was a ¾ inch sheet of plywood on 2×4s. I can't tell you how many ideas I came up with to mount this beast to my flimsy ¾ inch workbench. I'm sure I could have accomplished it but I knew deep in my heart that my bench was not adequate…again. Time for another reboot.
So here we go. Bench number 3. This time I was going to do it right. I bought these legs: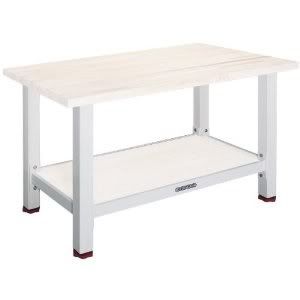 Could I have built wooden legs? Sure, but I got a smoking deal on Amazon and got this set for $100 with free 2-day Prime shipping. I decided to build the top out of laminated oak plywood. Four sheets of that at $50 each. Add that with my $200 vise and I was up to $500. Factor in hardware and extra lumber for all my mistakes and my grand total is well over $600. Mind you I had already spent about $400 on my previous 2 benches so I am really up to $1000+. My savings account was taking a beating and the Lie-Nielsen bench at $2000 isn't sounding so expensive anymore.
So I built this bench. It took me most of one weekend. I used these instructions for the top. I made mine thicker, of course, because I tend to overdo nearly everything. I put the whole thing together, nearly herniated myself lifting it onto its height adjustable feet (it weighs about 300 lbs.), and stood back and admired its oak top. Lovely I thought, then I retired to the cooler climes of my house (I live in Arizona and it was 100 degrees that day.) to read some more woodworking books and watch some Paul Sellers DVDs.
During this time I had begun to read about flatness. Bench tops have to be flat. How flat depends on who you talk to. Some old school woodworkers say that they plane on a bench shaped like a canoe and still get dead flat surfaces but the consensus from most experts (Sellers, Schwarz, Charlesworth, Tolpin, Bird, etc.) is that the top needs to be really flat. As flat as you can get it. The flatter the better. Well I was confident that my bench top was flat. I had laminated 4 sheets of oak plywood together. It had to be flat! I decided to check it to make sure. The only long flat edge I had was a 48 inch Empire level. I put it on the bench and squatted down for a good look. Uh-oh. Light underneath. I slid that level all over the surface and realized that it undulated like the surface of the ocean. Well, I thought, maybe my level isn't really that flat so I rushed to my computer and bought a 38" aluminum straight edge from Lee Valley. Guaranteed to 3/1000th inch over its full length. (It's actually closer to 1/1000th according to Robert Lee in a forum I read.)
A week later my straight edge arrived and I carried it out to my bench. The moment of truth had arrived. I put it on the bench and my heart sank. Not flat. Not even close. The straight edge only verified what my level had already told me. What to do? I put two pieces of plywood underneath and braced them on the lower shelf. I had to round the top edges, wax them, and pound them into place with a mallet so they would lift the sag out of the middle. It worked, sort of, but the bench was still far from flat. Back to the computer for some research. As usual, people have a lot of ideas about what to do. Slap a piece of hardboard on the top. Flatten it with a router. Buy a maple top and call it good. Plane it. Hmm? Can you plane plywood? Depends on who you ask. Most people say no but I found one guy on the web who said yes. He does it all the time. Problem is it's not going to be very pretty when you're done. That beautiful oak top is going to look like the camouflage pattern on a HumVee.
I didn't like the idea of shredding my top so I held off. I found articles about how you don't really need a super flat bench if you have real skills. Real woodworkers get the work done regardless of the equipment, not because of it. Sounded good. Problem is that I'm not a good woodworker. Not yet, anyway. Not for a long while if my early progress is any indication. Plus I'm still reading and watching Sellers and Schwarz and Charlesworth and a flat bench is real important to those guys. My bench is 1/16 of an inch or so out of flat in several places and that 1/16 isn't much but it's nagging at me because I like to do things right when I do them. I thought about buying a maple top. I thought about building a new top out of laminated 2×4s (Sellers advocates this) to keep it cheap and then flattening it with hand planes. I thought about a lot of things. Then I watched the Bench Planes DVD with Jim Kingshott and I noticed something. It was something I had noticed before but hadn't really registered on me. Jim's bench is flat, but it sure isn't pretty. Neither is Paul Sellers' bench or a lot of the other ones I see highly skilled woodworkers using. They are dinged and scratched and gouged and splotched. Why? Because a workbench isn't a piece of furniture you build to sit in a corner and admire. It's a tool that you use to get the job done. Does it really matter if it's pretty? Not to those guys. Not to me either.
So I went into my workshop that night and grabbed my Veritas straight edge and my LN 4 ½ smoothing plane and went to work. Oak chips were flying everywhere as the veneer came off the surface of the plywood. I cringed as I watched it peel away and reveal the lighter wood underneath. But you know what? The bench was getting flatter. I kept at it and finally began to smile as the band of light disappeared from under my straight edge. It took about 3 hours to get it as flat as I wanted it to be. Is it ugly? Yeah, it's ugly as sin. Is it flat? You bet. As flat as my straight edge anyway, which is good enough for me. So here is a picture of the ugly beast:
A closer shot of the top: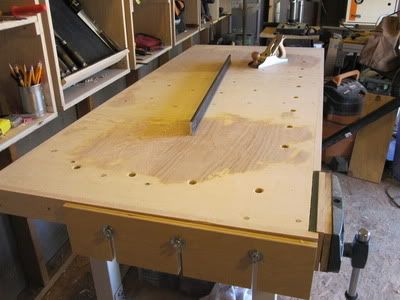 It's not quite done yet but it's a workable bench and I hope to use it to build something slightly less ugly in the future.
I make at least 10 mistakes a day as I move along on my journey to become a woodworker. They say you learn from your mistakes so I must be learning a lot. I will try to post more stories as I stumble along the path toward competence.
-- Bob B., Arizona
---