Inspired by that little tool box I posted on the hand tools forum I've decided to build a small box of my own. The biggest tool I wanted to fit is my 12" x 18" framing square. The widest tool at the moment (there might be some changes) is the handle of an 8" brace at 3". So the interior dimensions are 12 1/4" x18 1/4" x 3 1/2" . I have some teak left over from a job about three years ago that is already 1/2" thick so that is the wood I'm using. Not wanting to waste any teak I built a mock-up box and door from pine. Nothing really worthy of photos, buiscut joined door panels, glued butt joints with nails for the box corners, a plywood back.
Here is where I am at the moment. This is the first layout of the inside of the door. The french fitted panel also supports the square. Everything else is just placed for ideas. Layout tools are usually the first tool I reach for and they are light and flat so they go on the door. After French fitting the combination square in that separate piece of wood, I had a thought that if the interior door panel was thicker those tools could be fitted right into the door. I think I need to make another door.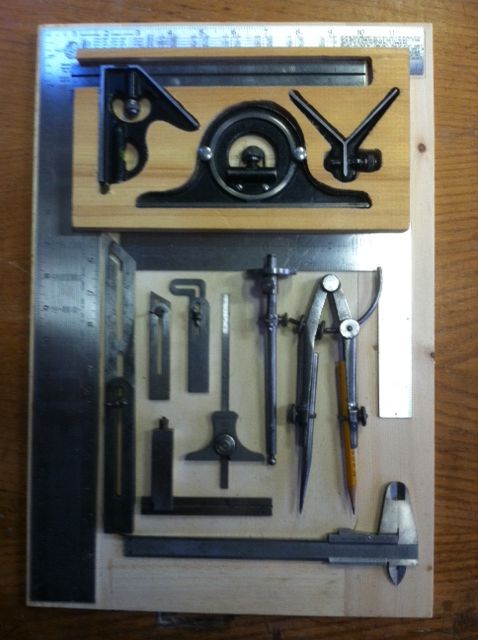 The body of the box is a bit more problematic because there are far more options. This is the first layout with possibilities. There were two others before it. I have two more chisels coming so they are not shown. All the chisels will have matching handles so don't worry about them at the moment. This is just the back level in the chisel area. The chisels may actually move to the front panel that can be removed and all brought closer to the work. Here is the first rendition. Just a fair warning this is not going to be a quick project so hang in there.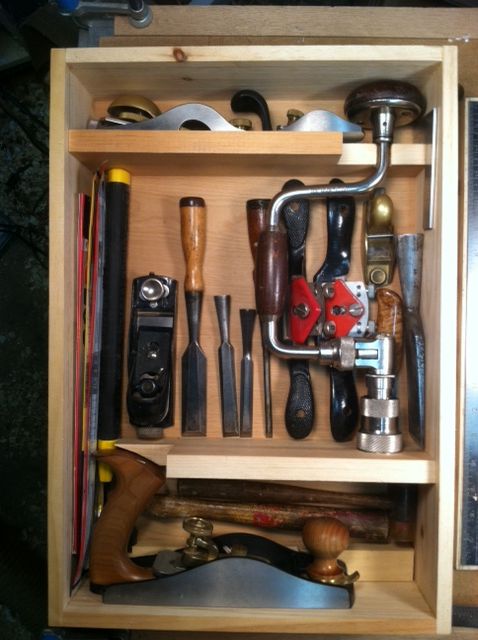 Please join in with comments, suggestions, warnings.
Jim
-- Jim, Long Island, NY Ancorayachtservice.com home of the chain leg vise
---