My old rear deck was falling apart. The ledger board was not treated lumber and had been installed without
a drip cap and was half rotted, since it is the first thing put up and the last taken down, the entire deck had
to be torn down. No pictures of this, it was just too badly built. The county building inspectors said that
4X4 post would be OK as supports, but then they wanted more 4X4 post bolted to the sides of the deck
as guard posts to support the railing. I decided to simplify life and combine the support posts and guard posts
in bigger posts. Why pay for wood when the pine beetle had hit my son's property and there were plenty
of trees cut and waiting. I cut the trees to length and discovered that over the last few years logs had
gotten heavier, I could not have gotten weaker. So I grabbed a 12" X 8' piece of plywood and screwed it
to a log as a straight edge cut one almost straight side and moved the plywood to that side and continued
until I had a roughly squared and considerably lighter timber.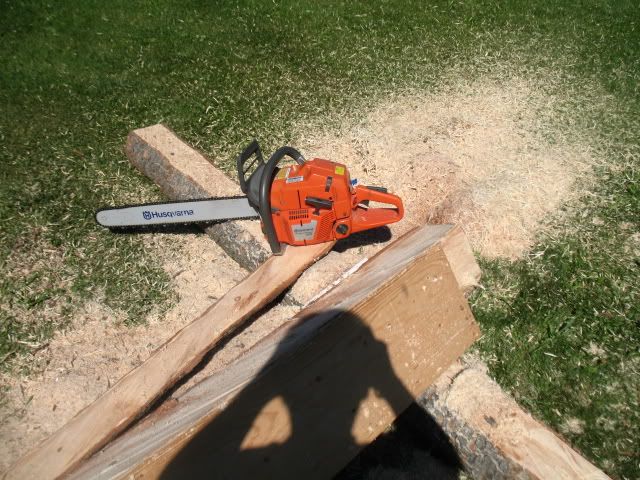 I brought these home and let them dry out for a week and then using the same plywood fence idea ran
them through my bandsaw.

This gave me some timbers that needed smoothing, but since I had made them roughly tapered, I could
not run them through the planer, I tried to use my slick.

Since trying to sand this fresh wood only gives you plugged up sand paper on the belt sander, the slick
helped a little, but I had to use my draw knives to get a smooth surface. I used a copper treatment on
the bottom of the posts to prevent rot and notched the top of the posts to support the deck and
provide a support post for the railing
.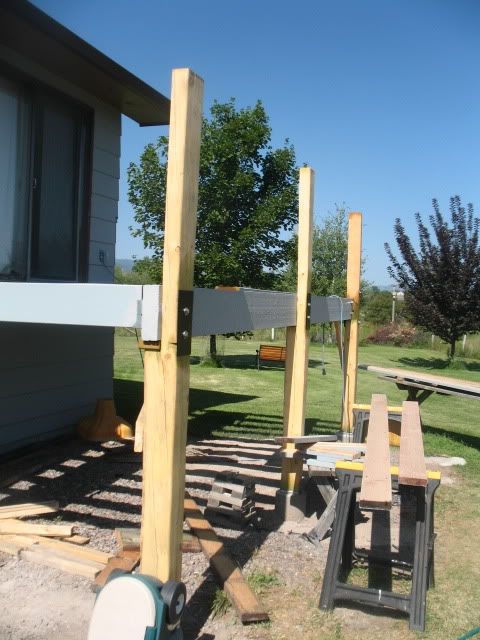 The pieces I cut out for the notch will be used as guard posts in between the support posts. Finding
good deck wood is difficult, so I l am waiting for a local sawmill to run some fir dimension wood so I can
get select grade wood for the deck. I did use trek for my front deck, but wanted to use real wood on
this back one. I may not be smart, but I sure am stingy. I am also unable to control my urge to work
instead of taking pictures of what I am doing most of the time.
-- As ever, Gus-the 79 yr young apprentice carpenter
---