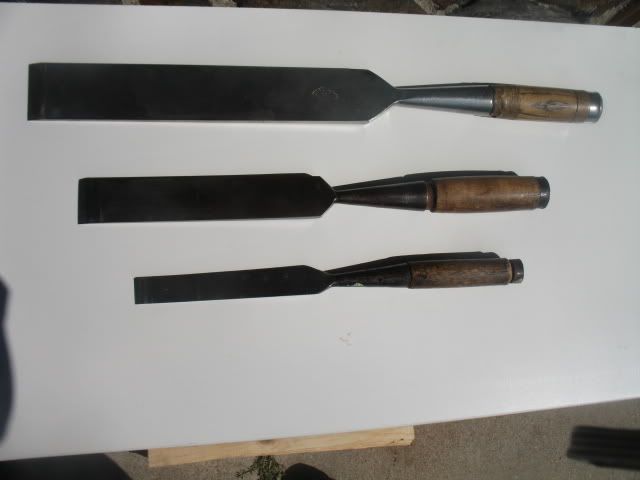 A friend asked me to keep an eye open for a small lathe, I found an old 10" Delta Lathe for $70, but it
came with a lot of junk, I had to take it all. On the lathe bench were these old chisels.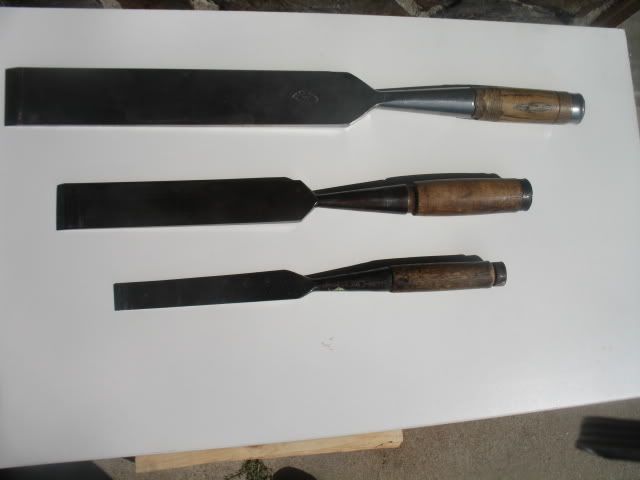 The biggest measures 21" long by 2" wide and is stamped L & IJ WHITE 1837 Buffalo, NY
the middle one measures 16-1/2" long by 1-1/2" wide and the tang is stamped Mfd by UNION HARDWARE
TORRINGTON CONN USA
The smallest is 13-3/8" X 13/16" with no name on it.
If these had long handles, they would be called timber slicks, but since the have short handles reinforced
for hammers they are timber chisels. Now I am going to have to clean them up and take care of them.
Underneath the lathe on a shelf was this
do not recognize it, try this picture
Ok try this one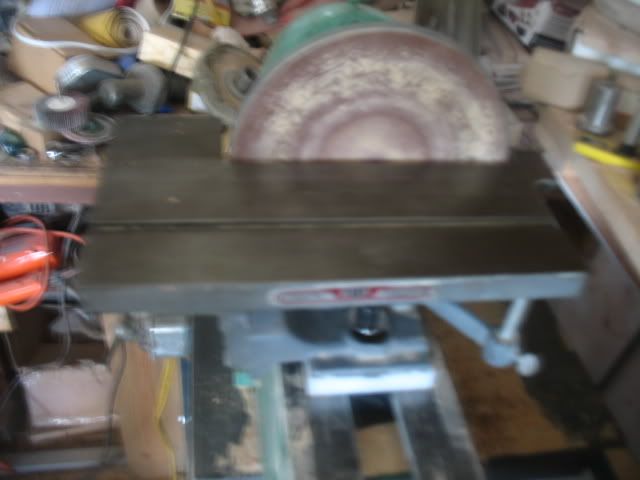 A genuine Delta sanding table for my new 1953 Delta lathe, I had to make an adapter plate to
raise the table up to the correct height for my 12" lathe, and make a mounting bracket. It came
with two face plates and so I had to go buy sanding discss, one rough and one fine, and as you
can see I had to try it out, it even came with an eraser to clean off the discs which I will do before
I use it again.
I did swap the lathe to my friend for a small 30 lb 1 HP electric motor that I had been trying to talk
him out of for a while, so we both came out ahead except for the $25 Ariens rototiller that I will
not show here since it is not related to woodworking. All I had to do was fix the spark plug wire and
install a new square O ring on the sediment bowl and I got to rototill the wife's flower garden with
her new rototiller, just because I did a good deed for a friend, and I did not even get to charge him
a beer for the delivery of his lathe.
I wonder if I can adapt a velcro system to those sanding discs?
-- As ever, Gus-the 79 yr young apprentice carpenter
---