I was making carving knives for the Spoontaneous collaboration and needed to sharpen them. While at
Northwest Industrial Supply I found some 3M scotchbrite deburring and polishing wheels, similar to a
grinding wheel but different. I did not want to add another machine to my shop, I have a couple of
sharpening systems now. The scotch brite wheels had a 1" arbor opening and my lathe headstock has
a 1" 8TPI arbor. All my lathe accessories have a 1-1/4" hex nut, if they have any, so I ordered some
1-1/4" hex by 2-1/2" long 1" 8TPI coupling nuts and parted them on my lathe using my compound slide
rest.
This picture shows the coupling nut parted at 2" with a 3/8" locknut. I cut a 2-1/4" length of 1"x 8TPI
allthread and threaded one end into the coupling nut after coating it with stud and bearing mount Loctite.
I then drilled a 1/4" hole 1/4" in from the end of the coupling nut through the coupling nut and the all
thread and inserted a 1/4" X1-1/4" tension pin, this locks the two parts securely. I then mounted the
scotch brite wheel between two 7/8" flat cut washers with the center reamed out to 1".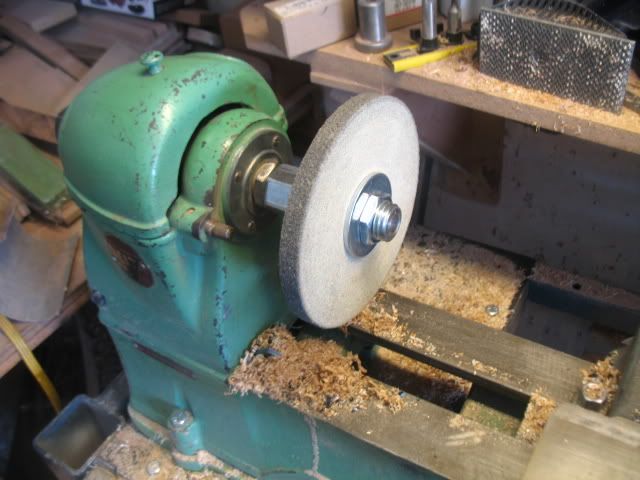 The scotchbrite wheel leaves a sharp and smooth edge, but it could be improved, so I turned a wooden
wheel from 2 laminated pieces of maple and cut a 1" mounting hole with a recess on each side. I made
a second coupling nut adapter, and will glue a leather strap around the exterior and treat it with some
green strop honing compound to make a strop wheel. I have a cloth fiber buffing wheel accessory that
came with the lathe, but I think a leather strop will work better.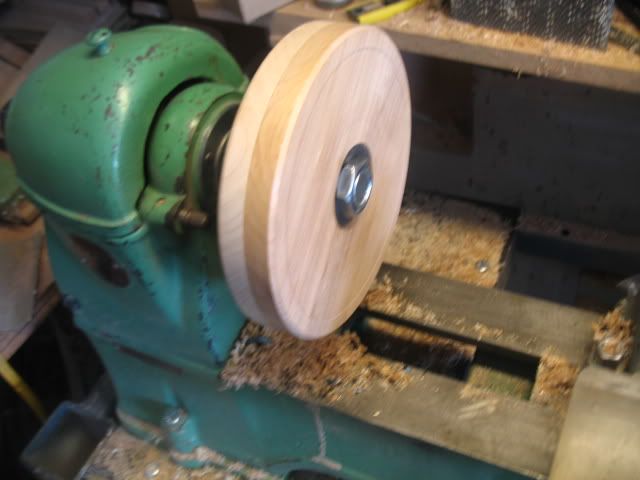 If these wheels keep working , I will order some left hand coupling nuts and make some adapters for the
outboard arbor and will be able to sharpen and hone knives and turning tools on my lathe without
interrupting my turning. As you can see from the background, keeping my shop spotless is not real high
on my list of priorities.
-- As ever, Gus-the 79 yr young apprentice carpenter
---