Djema dumps logs in my driveway from time to time. She's foreman on a San Francisco city crew maintaining highway medians. Any time there's a big blow I can expect Djema to show up in her battered pickup truck with fresh sections of cypress, yew, sometimes cherry and dogwood and the like. Green wood. So heavy I can barely budge it. And yet Djema simply hefts the logs and tosses them off her truck like an afterthought.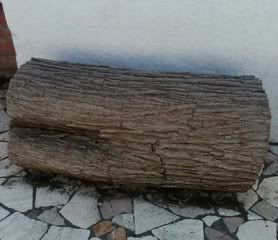 I paint the ends of the logs with a waxy sealant that slows down the drying process. Wood loses moisture content most quickly from the outer layers, most slowly from within. The tension between the two leads to cracks, or checking. Cracks don't lend themselves to successful woodturning, and the well-turned object is where most of this wood is headed.
The process flows like this: chainsaw, bandsaw, lathe. Each log has its own story, its own language. Cut me this way, it says, not that way. So some logs I simply rip in half, right down the middle. Others want their faces exposed. The bandsaw shapes the blank to be received by the lathe, squares up ends, rounds out the slab. It's like a good editor, refining the language of the wood. It reveals in earnest the thread, the lede, the place to begin the dialog. It isn't a soliloquy we're headed for. It's more like the conversation of a long-married couple where the thought begins with one partner and the sentence ends with the other.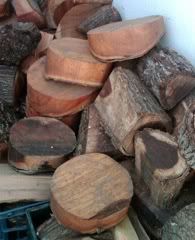 Finally, the lathe. But here's my question: Is the finished piece, the bowl, say, in my mind to begin with, or in the spinning wood waiting to reveal itself? Or, does it reside in both places at once and require a kind of metaphysical transformation of time, space, and matter to take finished form? The tools—the gouges, scrapers, and skew chisels—become extensions both of my mind and of the soul in the wood demanding shape. I imagine a great turner becomes so skilled over time it doesn't matter what the wood wants. He or she can make it do anything. Or, maybe over time, the hearing of the turner becomes as acute and refined as pure skill, and what the wood wants, what the wood talks about, simply becomes.
I have a long way to go. I have too many partially turned pieces with rough spots in them that no manner of cutting, scraping, sanding, or burnishing will remove. These are pieces that said one thing to me, but I heard another.
I have come to one last question. When Djema backs her battered pickup into my driveway and starts chucking out logs, is that me I hear hitting the pavement, or a bowl?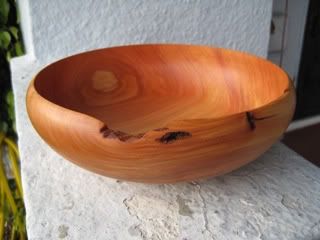 -- BlueHatMan, N. California, http://bluehatman.com/
---