A couple of LJs have done this already, but they all used a lathe. The only part of a shop made screwdriver handle that needs to be round is the "tenon" in order to fit a proper ferrule. I had the notion that a tapered plug cutter could be used, and I was right.
With that obstacle conquered, and a batch of screwdriver shanks from Lee Valley Tools, I went about making my custom screwdrivers.
There are pictures of each step, so that should help. I made several extra handles and tried the next step on those extras along the way. Basically, I was just wingin' this;-)
-
-

Here's a start. The shanks, some 1/2" copper pipe cap fittings, and some burled walnut cutoffs. I ripped all the blanks to 1 1/8" square.
-
-


I smoothed the four sides of the blanks, hoping it would save some sanding later.
-
-


You'll want to leave the blanks long while you round over the corners. It's safer. I used a 3/8" round over. Then I cut them to length with a crosscut saw and bench hook. The believe the large size three were 5", med. 4 3/4", and small 4 1/2".
-
-


Here's my gypsy rig for drilling the tenons. I'm using a 5/8" tapered plug cutter. Works pretty well. You have to start very slow or it will jump on end grain. Since there is no way to "center" a plug cutter per say, you just have to fuss with your setup til you get it right. Another reason to mass produce these if your going to do it.
Also, this is really the only part I goofed on. I drilled until the plug cutter bottomed out. I should have used the stop on my drill press. My tenons ended up a little long and fat toward the base, which I had to correct later.
-
-

Then I used a 1/2" bit to round over the butt end of the handles.
-
-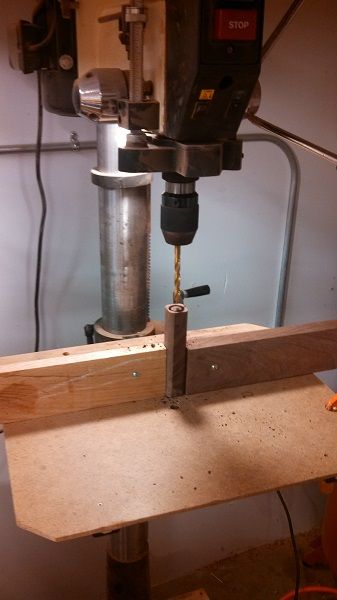 I marked the centers to be sure. Then, using the same jig, I drilled the holes for the shanks. These must be drilled straight, or you'll have one crappy screwdriver. The shanks are a couple different sizes. See what you've got. I drilled them all just one bit size(1/64) bigger than the actual shank. Also do some figuring to see how deep to drill.
-
-


Not being confident in my hand saw skills, I scored the shoulders of the tenon on the tablesaw.
-
-

A hand saw was needed to get the last of the little corners.
-
-


To begin the shaping. I used a block plane on the four corners, tapering them toward the tenon. This gave my big red guns a workout.
-
-
Time for some ferrules.


These are the only thing that will keep your wood from splitting when you drive the shank home. Lee Valley sells some brass ones. That would have been easier, but I really like the looks of copper….so I made my own. Not too hard to do. I paid $10 for a bag of twenty-five 1/2" copper pipe end caps, and drilled them. Another goofy setup. PSA sandpaper is needed to keep the fitting from spinning. And there's a recess drilled in the board below. I really could have used a drill press vise.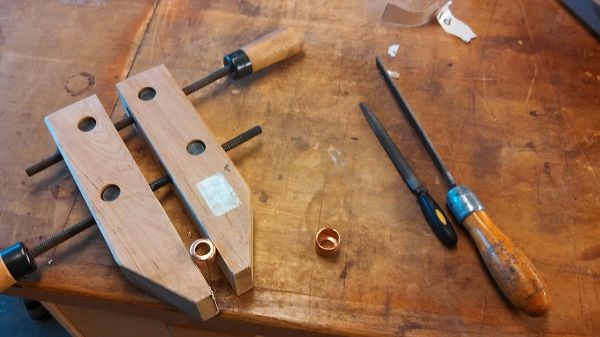 I didn't always get the hole centered as I would like. I cleaned them up with a file. Carefully. They're friggin hot right after you drill them
-
-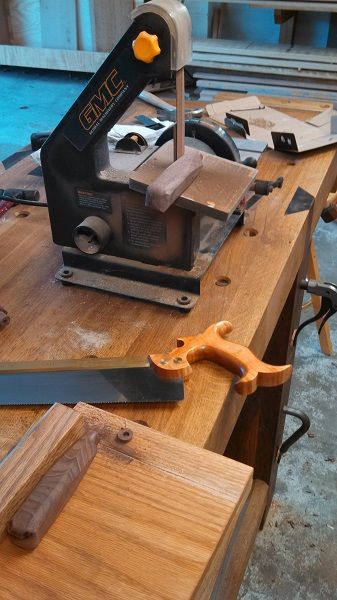 As I said before, my tenons were a little over-sized. I trimmed the length, then conceded to the power sander. I swear that machine was created my Lucifer himself.
-
-


I would probably be wise to epoxy the ferrules on first, then drive in the shanks. But I'm a nutjob, so I did both at the same time. The friction fit of the ferrules held pretty well anyway.
Pay careful attention when you start driving the shank, if the "wings" on the shank start biting into the wood crooked, doesn't matter how straight your hole is drilled….they'll end up all cock-eyed. This was the best way I could come up with. Once they're started straight, your good. I drove all but the bigger slotted or flat-head screwdrivers. You'll see why in the next step.
-
-
Who needs a Lathe? I've got a drill press!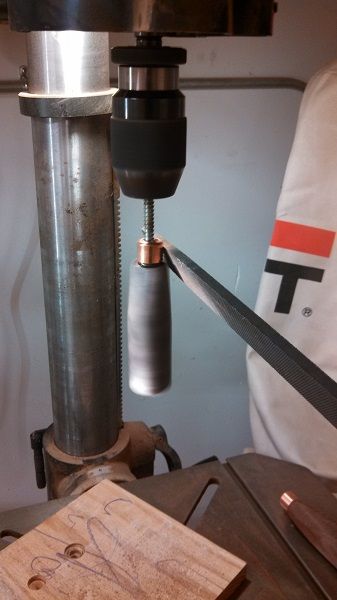 The shank of a flat-head screwdriver will not fit in my chuck. So I sanded them by cutting the head off a lag bolt and threading it into the wood. I started shaping them with a file to knock the big corners off.


Then a lot of sanding. I worked from 80grit up to 600. You can seen in this pic how all the rest of the screwdrivers could be chucked in the drill press for the rest of this saga.
-
-
After sanding on the drill press, I had to take them over to the bench and sand the flat sides by hand. I finished with a couple coats of danish oil. Then paste wax. I also used some very fine grits on the copper and chrome shanks. I just like the way it looks.
There you have it:


-
-
Overall, I'm pretty happy with them. They fit my big ol' mitts nicely. The shaping isn't completely uniform. But not band for some of the first tools I have ever made, And hey, they weren't made my a CNC machine. I made 'em. You should too;-)
Take care knuckleheads. Questions and comments always welcome, Red
-- Red -- "I ain't as good as I'm gonna get....but I'm better than I used to be."
---