I sure appreciate all the feedback from my first shop blog. It does my heart well that some of you are encouraged or inspired by my shop and my work.
It got me thinking about this past year on Lumberjocks. Like a lot of folks, I starting surfing this place because there are some awesome craftsman on here who had answers to my questions. But something else happened. I couldn't help but notice that there are a lot of novice woodworkers whom I related to as well. LJs if full of newbies are trying to overcome the obstacles of time, budget, and skill levels. I can totally relate. I was and still am. I think that's why some of my shepherding instincts have kicked in. I find myself spending a lot of time encouraging and nudging others along. It's true, I'm nobody special. If I did it….you can too!
Enough sap, let's go back to my shop. Last summer I had just finished up my lumber rack. A few LJs thought I was crazy for using oak. Lo siento, it's very reasonable where I live. So, just to rub it in, I was about to "waste" a lot more white oak and walnut in my shop (snicker).
Where were we…... I had a big empty wall in the back of my shop. I sorta missed the ugly old 2×4 bench I had moved into the shed. I was all set to build a joinery bench for that space back yonder.


-
-
Then, fate struck. I was contacted about the opportunity to purchase a bunch of 2nd hand Lie-Nielsen tools for a great price. Ya, it was too good to pass up. I spent all my furniture sales money and then some. But…well….
Aint they purdy. I was glad I had the cash at the time to make the deal, but I had to put the joinery bench on hold until I sold some more furniture.
-
-
No dinero for a joinery bench. Hmmmm…where am I gonna put all these stinkin' tools?
One thing's for certain in life… change. I wanted to my shop to have some flexibility with the new layout. LJ's gets the credit for showing me the "french cleat". I knew this was the solution for the back wall of my shop. Of course, I had to put my own twist on it.


-
-
I built the cleat board first, then slowly added tills for months afterward. It still cracks me up that my french cleat board was far and away the biggest response to any project I posted on LJs. It was so much quicker and easier than any of my furniture projects. Ya, wood workers just love checking out each others shops…..and drooling on their tools;-)
Then, I needed a place for my large hand planes. When I played with the dimensions, I realized I didn't want this big of a till on the french cleat board. So I found another place on the wall.
The obvious downside to my french cleat and tills is the exposure to dust. I thought about enclosed cabinets hanging on my cleats. But access to the tools is more important to me. I don't want to be messing with doors while I'm working. So, I just keep my tools oiled and waxed. Then I blow them off with compressed air from time to time.
-
-
At this time I had a few furniture orders lining up. I still needed another work surface on the back wall. And I was paranoid about a my tools mounted on the french cleat board with nothing but cement below. So I tallied up what 8/4 white oak I had and decided I could at least make the shell (legs and top) to a joinery bench. So I went at it. I haven't posted it as a project because I'm waiting to build the cabinets below.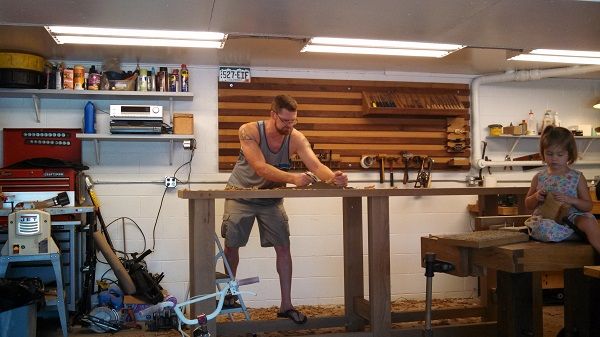 -
-
And, with some fantasy baseball winnings, I bought the benchcrafted moxon vise hardware. That turned out really nice.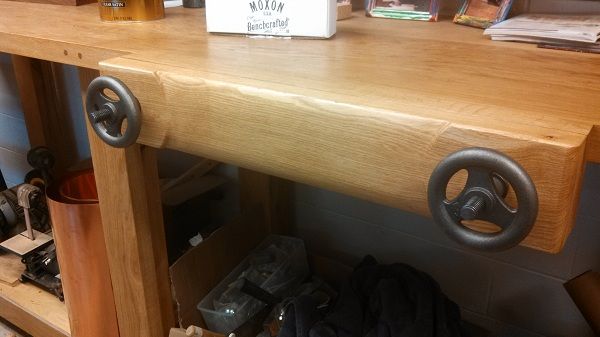 -
-
Last change. I never liked the birch plywood panels on my shop cabinets. They looked like crap after I put danish oil on them years back. I kicked around options for some time. Then I saw these 9×11" stanley hand tool prints on feebay. Did some measuring and figured I could use them on the panels. Worked great. I just took the thin plexiglass out of some cheap poster frames and used a pin nailer.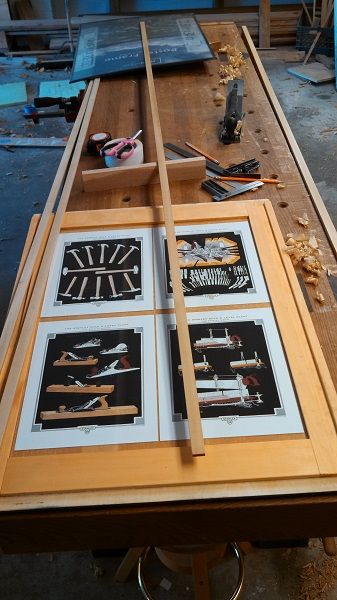 -
-
That's about it folks. You're all caught up. I'm building a blanket chest right now that should fund the lower cabinets on my joinery bench. That's really the only plans I have left for my shop. Can't wait to get crackin' on 'em. That bench looks cluttered below, and I love me some orginization.
Thanks for reading or even givin' a rip. I'll leave ya with a couple pics of how "Taller de Rojo" looks tonight.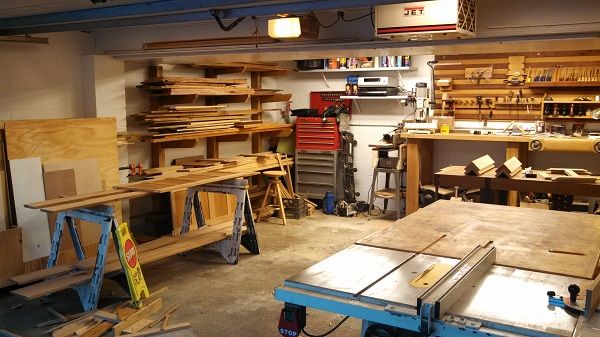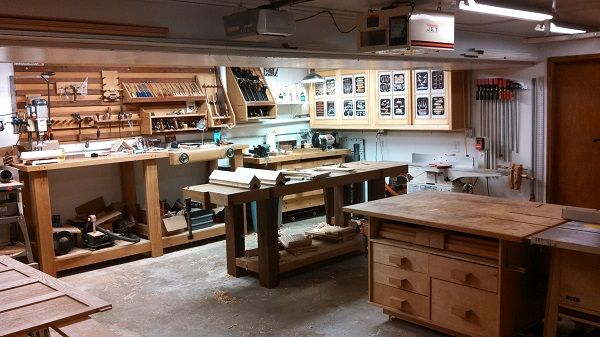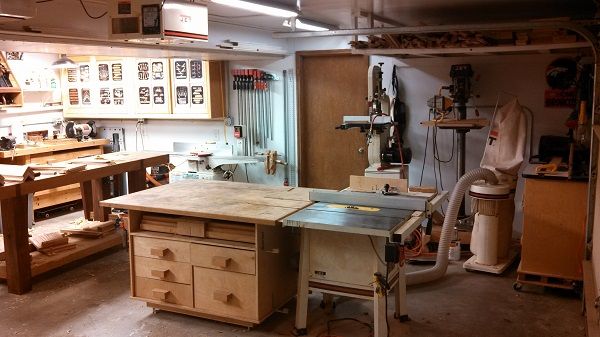 Looks a little different than a year ago ehh;-)
-- Red-- "At the end of the day, try and make it beautiful....because the world is full of ugly." Konrad Sauer
---