Early on, a woodworker is forced to decide upon a sharpening system or product. And I know we have some folks on Ljs who are just entering the wonderful world of hand tools. This is my attempt to not leave those people hangin when it comes to sharpening. Clearly, planes and chisels are just handsome paperweights if they're not sharp.
Let me start by saying that I am far from an expert. Shoot I've only been using and sharpening hand tools effectively for about a year. I spent the previous three years frustrated, wasting time and money when it came to sharpening my tools. I am only taking the time to write this because I think it may help some fellow LJ's save some frustration and cash. I realize I don't have near the knowledge a lot LJ's have. My only qualifications are my experience with these methods and my ability to sharpen very effectively as of now. Which leads me to my:
DISCLAIMER: When it comes to woodworkers, sometimes you're better off talking politics or religion than bring up sharpening. If you have a system that works…great! Go with it. This is not to convert anyone to my way of thinking.
I have tried several systems, and this is what I've found:
Scary Sharp:
Pros:
- Cheap startup. Honing guide, piece of glass, some sandpaper, and your off.
- It does work.
Cons:
- I always struggled with this method. Even now that I am very capable of getting a sharp edge with stones, I still can't get what I like with sandpaper.
- Kind of a pain scraping and replacing sandpaper often. Very often.
- Not cheap in the long run. You'll forever be buying sandpaper.
- A proper setup with many grits takes more space than stones.
- Time. Changing sandpapers often makes this the slowest method I've tried.
Some people love it. You can tell I don't. I really believe any money you spend on this method could've been spent on good stones that will last much, much longer.
Worksharp power sharpening:
I have only tried this setup at the Woodsmith store. Also, I have used blades people sent me sharpened this way.
Pros:
- Works fast with a small setup
- I was impressed with the edge it gave on chisels
Cons:
- You will forever be buying abrasives again.
- As far as I know, there is no way to camber a blade. A deal breaker if your gonna use planes a lot.
Water Stones:
This is the first stone setup I had. The video was good, and taught me how to sharpen chisels freehand. The flattening stone is a joke, as Amazon reviews will note.
Pros:
- They sharpen well, they cut fast. Especially the 8000 grit. It'll give a mirror polish.
- There's many makes to pick from. Some pretty reasonable.
- The most popular method with lots of info available.
Cons:
- They dish. They need to be flattened often. Some, like Shaptons aren't as bad.
- Cost. Good stones aren't too bad, at first. But they don't last forever. Heavy use might necessitate stones every couple years. Additionally you really need a diamond flattening stone to properly flatten them. More $.
- They are Messy! You really need a dedicated area. You don't want these things on your bench.
- Time. I found the time saved by really fast working stones was lost in flattening and cleanup.
- Water and metal don't mix. You'll need to treat your blades afterward to avoid rust.
Despite these downsides, some people love 'em. I can't argue with their effectiveness. It's a preference thing. I just wish I knew more of what I was getting into before I bought some. Now you do. I sold mine on ebay for darn near what I paid for them.
Oil Stones:
Here's the tutorial that led me try oil stones:
http://antiquetools.com/sharp/
The guys at toolsforworkingwood.com carry the stones mentioned in the tutorial. However, they are often out of stock, so I went to Hartville tool via Amazon.
Pros:
- Flat! The Arkansas stones come flat and stay flat. India stones need a little flattening when you get them, but stay flat for a long time.
- Cost. A good Norton translucent Arkansas stone and an India stone will run about $100… but your done. The Arkansas stone will last you the rest of your life. You may have to replace the India stone, ore even get a couple more grits as I have, but they're a measly $20.
- They work. Finish up with a leather strop and you will have a razor sharp edge.
- No rust worries.You use oil (I thin it with WD-40).
Cons:
- They cut slower.
- You can spend a lot on high end stones like Dan's Whetstones etc.
- Because they are natural, large stones cost more. That's why I went with the Nortons. They were the most reasonable 8×3s. I can't say if the more expensive stones work better or not. I will try others eventually.
I really don't mind having to spend more time at each stone when I don't have to flatten them or cleanup afterward. Overall, I believe I spend less time sharpening with oil stones. Obviously I am biased to my current method or I wouldn't be doing it.
My Sharpening Setup: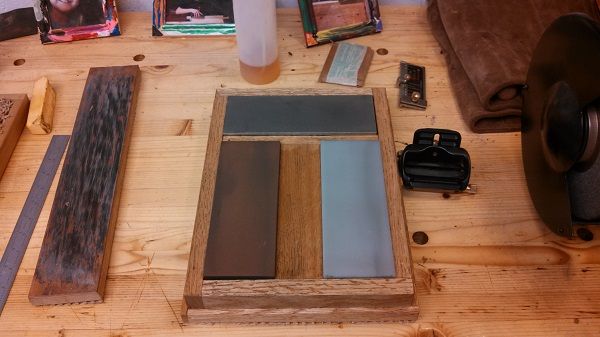 Extra course diamond stone, Norton medium India, translucent Arkansas stone, MKII honing guide, Leather strop, WD-40.
Other Sharpening Aids and Recommendations:
Veritas MKII Honing guide:
Pros:
-This jig is foolproof and very well made.
- Offers a additional camber roller so you can camber blades.
- Blade registration jig helps you get blades/chisels set straight at the same bevel angle every time. This eliminates one of the biggest downsides to using jigs. If you don't get the blade set the same, you'll grind a different bevel every time. See Pic:


- At the turn of a knob you can add a micro or secondary bevel. I use this all the time. Cuts back on grinding a new bevel.
Cons:
- It pricey for a jig. About $65.
Despite the cost, I really think it is worth it for a newbie to get this jig. I have a cheaper side clamping jig that never held my chisels right because of the side bevels. This jig is foolproof and was really my gateway to success. As with all Veritas goods, their return policy is great if you don't like it.
Bench Grinder: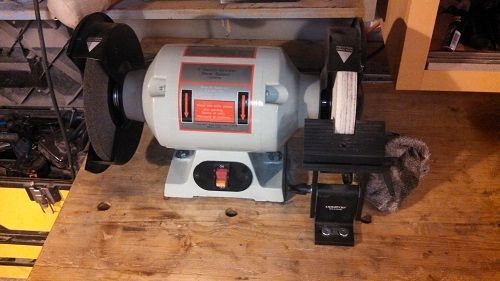 Recent additions to my shop have been a Woodcraft slow speed bench grinder and a Veritas tool rest.
Hallelujah. I have been grinding bevels with my MKII and 80 grit psa sandpaper for a while.

It works. I still use this method to flatten the backs of blades. Some guys use a belt sander. Probably works too. I just think those things are evil.
If you get serious with hand tools, you'll eventually want a grinder. But you can get by without it. Just be careful you don't burn your irons and ruin the temper. That's why a slow speed grinder is a good idea.
A grinder is one area you can save money. Find an old adjustable speed grinder at a garage sale and get a good white wheel. Make your own tool rest if you want. Some guys even get an old hand-spun grinder.
To Surmise:
I know what your saying, "Jeepers Red! We're broke with a young couples here. Now you recommend a $175 setup (Norton oil stones and a Veritas MKII)." I know. Believe me, I've been there. I am totally a blue-collar guy with 3 kids and a stay-at-home wifey. Almost every tax return, Xmas and Bday present in my late twenties was woodworking related. Save and mow lawns if you have to. I've done some crazy odd jobs to get tool and lumber money. When it's your passion, you don't care. I've finally gotten to the point where I can produce high enough quality furniture that people are willing to pay pretty darn good money for it. I am grateful that I don't hurt for woodworking cash anymore. It's a fun place to be and I hope you get there if that's your goal. However, if money's tight for you now, your gonna have to sacrifice and work for it, just like I did.
These purchase decisions won't end with sharpening equipment. You don't have to be on Ljs very long to find forums like this: http://lumberjocks.com/topics/47287 "Tools bought but wish you hadn't." Guys saying, "Buy nice or buy twice!" It's true. I'm just glad I was able to sell some of the stuff I didn't like on ebay;-)
You may be able to save a little by finding some used stones. As I've posted elsewhere, a hand tool newbie would do well to save money when buying their hand tools rather than sharpening stuff. You don't need a Lie Nielson or Veritas plane to start. Truth be known, I have several high end planes. I like some of my old Stanley's and Millers falls just as well. There are very affordable $30-$50 oldie-but-goodie planes from guys like:
Don W- http://timetestedtools.wordpress.com/tools-for-sale/
Walt- http://www.brasscityrecords.com/toolworks/new%20tools.html
Neither of these guys are in it to make a quick buck, and their planes should be pretty much ready to go. Don't know where to start? I'll bet they can recommend something.
If I save anybody any time, frustration, or cash, then my effort was worth it. Like I said with my disclaimer, this wasn't intended to provoke a sharpening debate. This was written with the genuine motive of helping some fellow Ljs wade through the overwhelming mire of sharpening methods. Whatever method you choose, I just hope this blog saves you from having to buy another because you didn't realize what you were getting into. Even better, I hope this gets you on your way to sharpening effectively. That's when the fun starts.
I could make a part 2 to this blog showing my sharpening procedure if some of you would find that helpful. Although I'd be inclined to refer you to the guide on toolsforworking.com. That guy covers free hand pretty well and that's how I sharpen chisels. I still love my MKII for plane irons though.
Take care and happy shavings ya'll,
Red
-- "At the end of the day, try and make it beautiful....because the world is full of ugly." Konrad Sauer
---