"Simpler is better, except when complicated looks really cool." Besides, I try to challenge myself every project. The dovetails/mortises are time-consuming, but they make the bench.

After milling up the 8/4(2in)walnut, I picked the best looking pieces for the face/dovetails. In a bonehead move, I milled the walnut exactly the width of the dovetail/mortises. I should have made them a little wider to give myself some play when I had to laminate the legs later. They turned out alright though. I did however, leave them long. That way if I messed up a tail, I could just lop it off and try again.
Anyway, scribed and cut the tails on the tablesaw. This was a little tricky. I have a left-tilt saw. I made one cut while the piece was flat, and the other on edge. A sacrificial fence was needed to line up the cut. My home depot hand saws in the background explain why I didn't attempt this entirely by hand. This pic is right before I had to finish the process with hand saws.

Like any machined tenons, I tried to make them barely oversized. Used a dado blade to take hog off material on backside for thickness. Then the hand tools. Not gonna lie, took a couple of hours with chisel and plane to get that piston fit. One more project where my Lie Nielson Rabbet plane was worth it's weight in gold. Why don't I have anything else by LN? Oh right, I'm just a po white boy. A freckled one at that.
With the dovetails done. I laminated two more pieces of 8/4 stock. Dado blade used to juse like any other tenon. However, care taken to line everyting up with dovetail.
To avoid any variances in lining up. I did the last leg lamination with the leg instailled. Worked alright. Masking tape to keep the leg from gluing to the top was a good idea.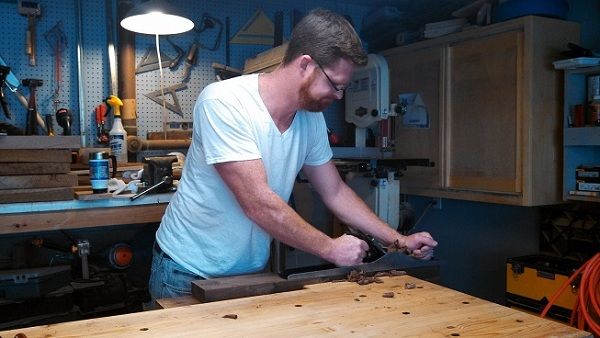 Wifey snapped a shot of me truing up the legs with my prized stanley 8c. Would ya look at the size of that gargantuan cranium. It's like an orange on a toothpick!
Bam! Now we're getting somewhere. Sidenote: Going with 37" for bench height. I know C. Schwarz is shreeking. But I'm 6'6" with a bad back. I can always trim it down if I don't like it. Who's gonna help me turn it over to trim the legs after it's done? Anyone? Anyone?
Not too bad for my first dovetails. Huge ones at that. It has went as well as I could have hoped. Surely I'm not the first guy to do it this way, but I just pulled from my furniture making experience. I am definitely more experienced with power tools. But the hand tool skills are developing. I have already used planes more on this project than any other. There's not much fear factor on a bench. Little tearout, woopdeeedooo.
Questions and suggestions welcomed. Heck, make fun of me if you want! I love to laugh.
Happy shavings ya'll, Dan
-- "At the end of the day, try and make it beautiful....because the world is full of ugly." Konrad Sauer
---