Well, here's my first hand plane restore. Like something out of a woodworking mag, a buddy sent me a picture message of plane. He found this plane in the rafters of his garage was just checking if I wanted it before he threw it into his scrap pile. Of course I told him, "I'll be right over."
It is Bailey No. 8. According to Rexmill.com, it would be around a type 10. I decided to restore it Rexmill style.

It was mostly surface rust, but the more I cleaned it, the more I realized there wouldn't be much Japanning (black paint) left after I got the rust off. I was blown away that the sole of this thing was only about a 1/32in from being perfectly flat.

I tried wd-40's rust removal stuff. Did it work? Yes. Worth $30? Probably not. It's saving grace is that you can strain and reuse it. So I got all the rust off. Then, when it was clear the japanning wasn't going to make it, I hit the drill press with a wiire brush. I realize the antique purists are cringing, but this thing was never gonna end up in a museum. It's a good user plane, and I have not intention of getting rid of it. So, I fixed it up in a way it would hold up, rust free, for a long time.
Also sanded the knob and tote about this time. Then I like the look of amber shellac on the rosewood.

Forgot to take a pic, when was stripped, but here's painting time. Also painted the vise for my new bench(didn't like the booger green veritas sent me). Used Rustoleums semi gloss engine primer and paint.
I flattend the sole on my jointer bed. Some more time on a wire wheel and buffer…....And she's done.
WAAALLLLLAAAAA!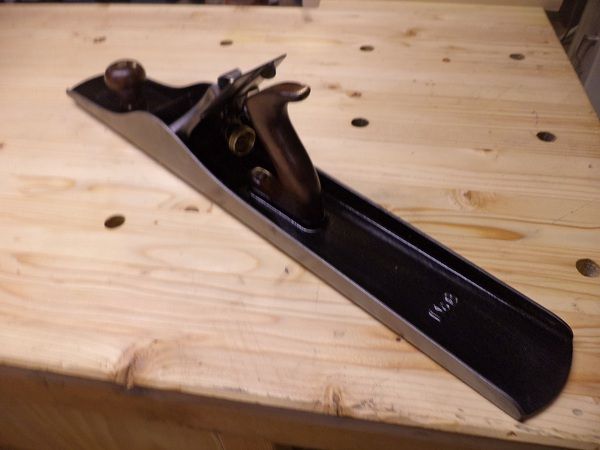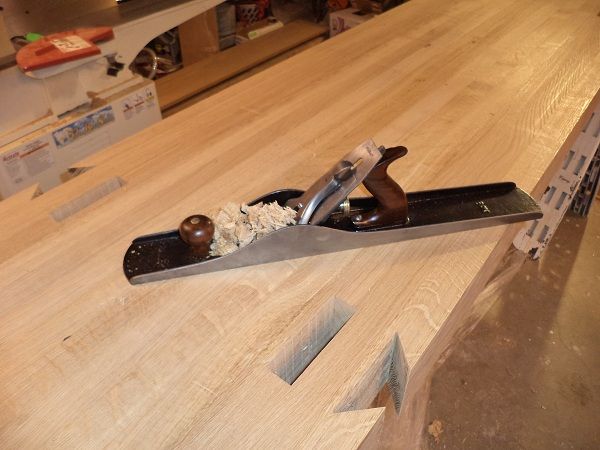 Here's the obligatory 'shavings pic.' It's already put it to work on my new benchtop (maybe another blog). I'm disgusted and delighted to say this hundred year old plane works as well as my high dollar veritas.
Also I just picked up an old no. 6 on craigslist for $20. As they say, a love for hand planes is a slippery slope.
-- "At the end of the day, try and make it beautiful....because the world is full of ugly." Konrad Sauer
---