The plan is to fabricate 3 levels of table top to support the model. The center elevation will be 2" thick and consist of 16 sections shown here
All sections in this level will be keyed off of the rails shown on the primary table noted in table project. There will be locking ends to keep centered and grooves located on the bottom side for wiring chases.
This is a colored plan view showing the top level with the middle level relationship
This detail shows additional components mounting to center elevation
Some more detail of North & South enterences located on center table.
These perliminary drawings show only what I need to know to size all the table tops (butcher block).
The lower table tops are in additional models. I will not need these table tops for a long time, so they will not be detailed or cut out for 2 years. Also not shown is the rest of the model elevation. These components would only confuse the drawing. But note there is 60"- 168" of additional structure that will sit on these tops.
This is why the weight of these tops are needed.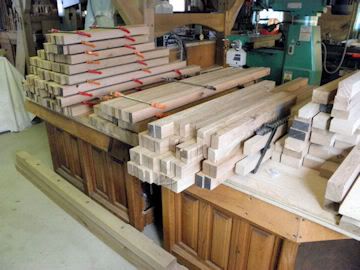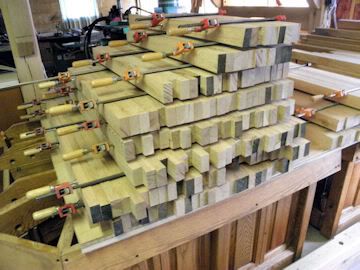 Shown above is the beginning of the center elevation table tops. I will be cutting these parts for the next 3 month. Glue up and cutting to size won't happen until summer.
when finished with the center elevation table tops. They will be mounted to the primary table at that point I will be starting the ceiling details shown below.
-- Brian, Wind Gap, Pa.
---