I've always been a mortise first kind of gal. But this rocker project has got me thinking that I may need to do the tenons first.
Before I start that topic. I have to show the only pictures I have for tonight. (Might as well bore you now after all – or build up the suspense – one or the other).
Anyway – here are the leg laminations. They came out really well. Zero gaps/voids on the edges and the glue line is almost not there at all.
This is the pile of lumber I have for the other parts (minus the seat slats which I'm working on gluing up).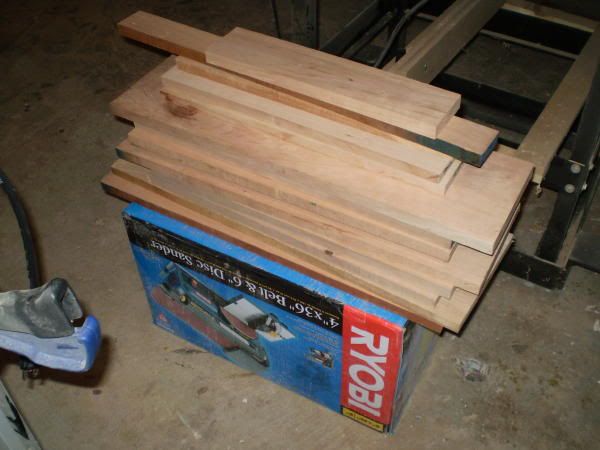 I need to sticker these and let them sit a bit to make sure I don't get any wonky pieces. I've also have some scrap for test pieces on this pile.
OK – now back to the tenon/mortise first issue. Here's my thought – tell me what you think.
The seat rails and the back rails have two tenons on each end. Here's a picture of the rocker.
Each rail is 3" wide and has 3/4" tenons. I'm planning on making a hardboard template for the mortises on each leg. The article tells me to make the rails and tenons first then fit the mortises to match the rails. Having always been a mortise first gal, I'm wondering if I would be crazy to do mortises first just because I always have – or follow the directions to the letter. I'm just thinking the tenon first thing really would be easier for this particular project because trying to trim two tenons to fit a mortise might try my patience and get frustrating. One flat tenon is not so bad but two round tenons makes me pause a bit.
So guys – do you agree or disagree that I should remake myself, at least for this project, into a tenons first gal? Or should I go into my "I've always done it that way and that's the way I'm going to do it" mode?
As always, I appreciate your thoughts. (Now back to my cabinet for a little bit).
-- "Our past judges our present." JFK - 1962; American Heritage Magazine
---