Getting closer to done. Moved to do the final assembly in the living room. Most of you probably should not do that. My cats don't mind – but your significant other of the two legged variety probably would squawk a bit.
Got the drawer mounted tonight and got the foot assembly on. One miter did not come out exactly as planned – will have to fix that. I am going to refinish the door parts as they came out a bit too dark compared to everything else.
So here are some shots of my progress. A bit dusty – where did I put that dusting cloth?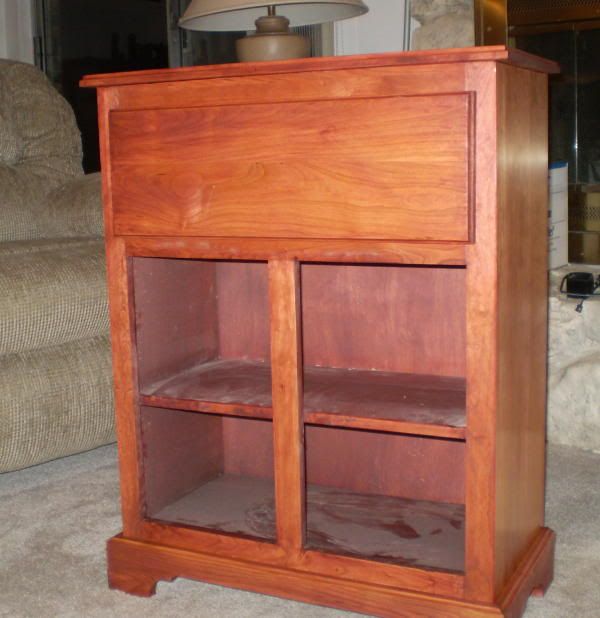 I don't like the spacing between the drawer top and the top top. Just a bit too wide. Ethan Allen has no worries of competition from me!
Here's a shot of the edging I put on.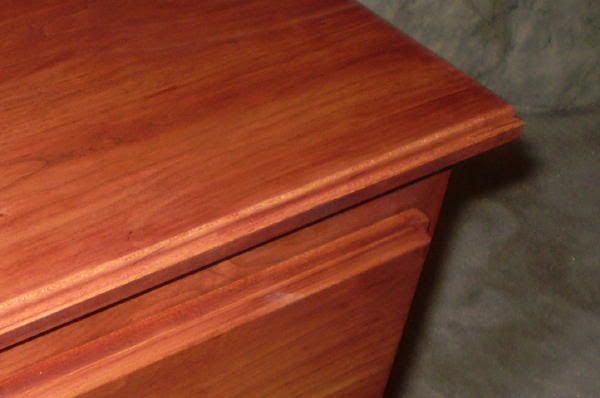 I need to attach the top to the case – but that's for another night. As well as drilling the holes for the wires through the back.
I think I will be quite happy to have this little job done. It will be a functional cabinet, but I'm not all that happy with it. Good intentions did not lead to happy endings. Oh well. My friend will like it regardless. She's going to need to come pick it up as I don't think I could manage to get it in a car on my own.
Thanks for looking.
-- "Our past judges our present." JFK - 1962; American Heritage Magazine
---