Thanks to my friends here on LJ- and scopemonkey in particular—- I learned how to do the CA glue finish. Scopemonkey gave me a link to a video to watch. This is the video – http://www.youtube.com/watch?v=54VkKcFRSWQ&feature=channel. It makes good watching.
I gave the finish a try tonight—- I like it a lot! Here are some pictures of some key rings I've made. The first picture is a friction finish only. The second picture are the CA glue finish. There is a big difference in look and feel. I think they all look ok – but the CA glue finish feels good on top of looking good.

The next picture is a little fuzzy (really a lot fuzzy). But I wanted to point out the black line in the middle.
I have no idea what that line is. It is part of the wood itself. It feels like rock.
Here are some of the pens I've been playing with. I've still got a looooongg way to go.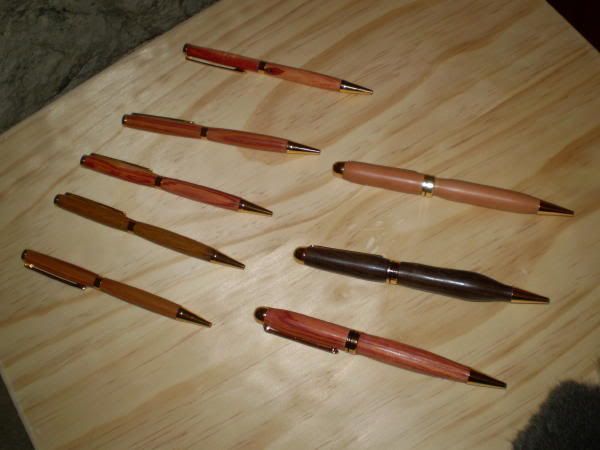 Miss Kitty came by to check them all out.
I'm getting a better feel for my tools. I decided to practice more with key rings because they are small, less expensive than pen kits and still make nice little gifts.
I really like the scraper tool – it makes the wood feel silky soft. One other good advantage of the scraper is it can take a finish off very easily if you don't like what you get the first time around. I needed this little advantage on one of the key rings because the CA glue left a ridge that was not good. So I just scraped off the finish and started over.
Thanks for looking—- and for all the help!
-- "Our past judges our present." JFK - 1962; American Heritage Magazine
---