It's been a while since I've been able to do much of substance on the cabinet. But I've managed to get the drawer carcass done. I tried several times to do hand cut dovetails and could not get a fit that I was happy with. So in order to get this cabinet done before I can no longer move—- thought I'd switch to box joints. I'm not entirely happy with my job – but it came out OK. I made it just a tad oversized and pared it down with a hand plane to get a good fit.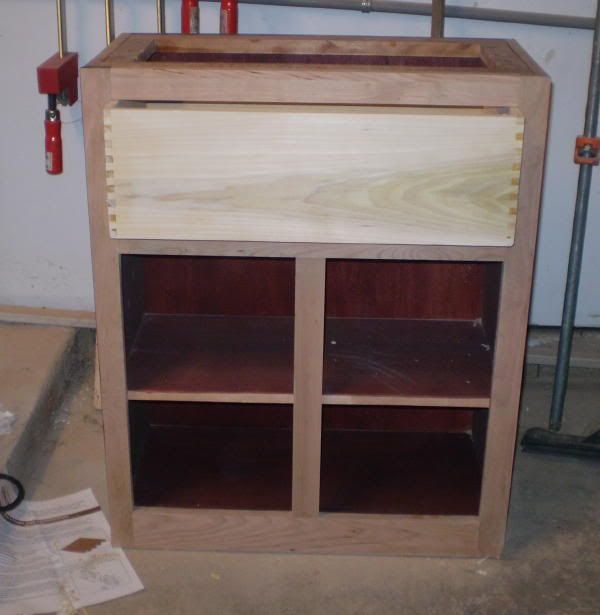 If you look close you can see the dado for the drawer bottom. I should have taken a picture of the bottom of the drawer – but the bottom slides into the dado and is attached to the back wall which was cut to a different width than the sides. The dado openings that show in the front will be covered with the drawer front. Which I'll start working on next. I've got the blank glued up and cleaned up now it's just getting it to the right size, molding the edge and installing it. I'm even considering turning my own knobs—but we'll have some practicing to do there.
Here's a bonus – since I was in the garage with my camera I took a picture of the clamp rack I have – since building it, I've added some clamps – but they all seem to fit. I still need to make one for the pipe clamps.
OK – here's one more – I finally made a shelf for my rechargeable drills – this sits on the bottom edge of my work bench so they are handy and still close to an outlet to recharge.
Thanks for looking.
-- "Our past judges our present." JFK - 1962; American Heritage Magazine
---