Got quite a lot done today. I'm down to painting it and making the final assembly. I think I made a good choice on the paint color as it actually looks close to the little one's dog.
I should be able to sand this down a little tomorrow to get all the nubs off and put on the second coat.
I had to come up with a way to hold the dog's head up to get the paint on without having to do one side then the other. I had a small stroke on genius and discovered my bench dog holes. They work perfect for this. i simply put a little scrap under the chin to hold it up off the top and it was perfect for painting.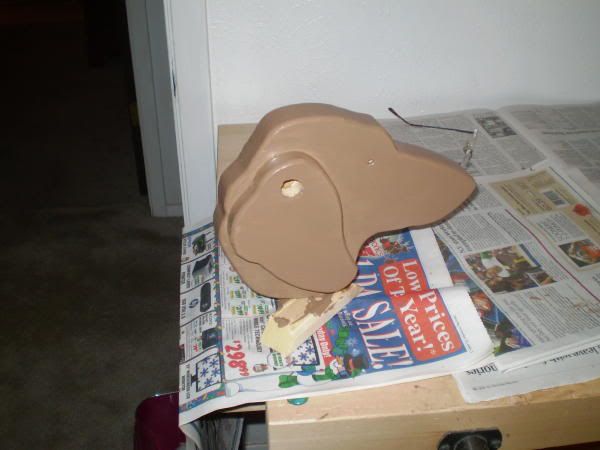 I've got to cut the handle and shape it. I'm going to ask my boss, who has a little one about this age, about how long it should be. I simply have no idea how wide a little ones hands are and the plan seems to call for an awfully short piece. (3" on either side of the head.)
A friend at work is going to paint the face for me. She's much more creative in that way than I am. I also have the large plastic eyes to put on. I'm plan to epoxy those in.
Thanks for looking and for all the help a tips along the way. Should be ready for a bow in a few more days!
-- "Our past judges our present." JFK - 1962; American Heritage Magazine
---