I'm slowly getting back into making things. I spent some time this last week getting some lumber resawn and laminating them to make these rings. I still have to sand them down and ease the edges, but since I used a little mineral spirits to clean them up – I thought I'd show how I'm coming along.
The napkin in this shot is just a paper towel as I could not find my cloth napkins.
The close up shots you can see that I've got some sanding to do to clean these up a bit.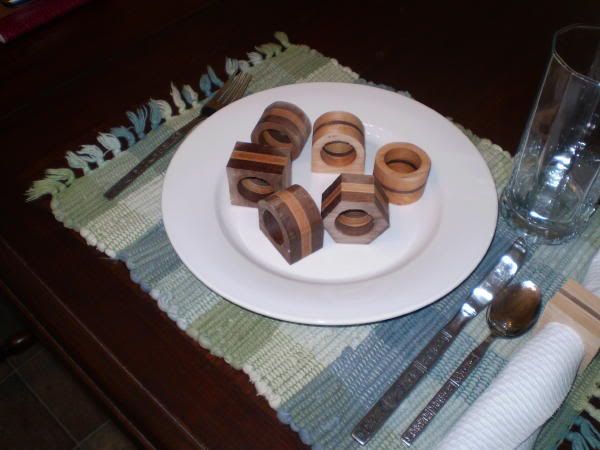 I'm not completely happy with these as I think they are a bit small – so I'm thinking that I may redo these and add about 1/4" or so.
This was a nice "easing back into things" project. I'm going to keep playing with them and see how I do with them.
The idea to do napkin rings and the "design" came from "Shop-Tested Scrollsaw Techniques" From the editors of Wood Magazine, page 54.
Thanks for looking.
-- "Our past judges our present." JFK - 1962; American Heritage Magazine
---